UberEats the online meal ordering and delivery platform arm of Uber has announced a major change. Customers will now have the ability to rate restaurants using a five-star review system.
This addition to the app went live today. It will allow the customers to rate the restaurants they order from on a one to five-star scale. In addition, they will also be able to rate the menu items they have selected. The restaurant rating reflected to those searching for a restaurant will be based on the last 90 days of data.
Below is a snapshot of what users can expect.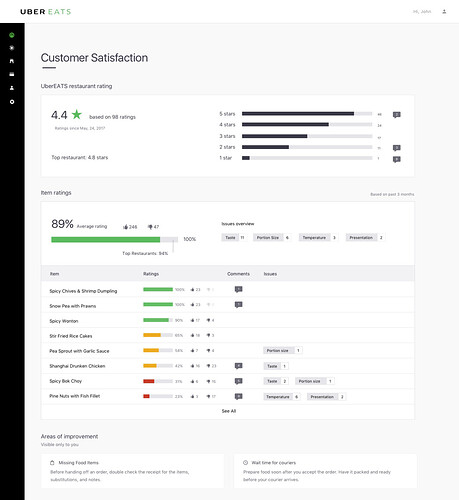 When asked what prompted the addition to the app, Ambika Krishnamachar, UberEATS Associate Product Manager said it was the consumers.
" We had heard from our consumers for a long time that they were interested in more information, in general, to help them make a decision of which restaurant to eat at. In particular, users are looking for a vote of confidence, given what other people in their community think. We saw it was effective on the rides side, so we wanted to bring it over to EATS as well."
Prior to this, customers were only able to rate the delivery person on the app.
The on-demand industry of which UberEATS is a part is driven by ease. The easier you make it for customers to access what they need, the quicker you grow.
With the above in mind, in addition to the five-star restaurant rating, UberEATS will also be adding menu recommendations and restyling the app to make it easier for you to find restaurants you have identified as your favorite.
Krishnamachar said that the change will not only provide customers with more information to help them find restaurants they like but it will also provide greater insights for UberEATS and the suppliers they have partnered with.
The suppliers will be able to see which of their menu items are preferred and should be kept on the menu versus those that should be taken off. They will also get insight into what new menu items they should think of adding based on what the customers are searching for.
UberEATS, Krishnamachar pointed out, have used this information towards their exploration into "ghost" restaurants otherwise known as virtual kitchens. Ghost" restaurants or virtual kitchens only exist on the UberEATS app as they are takeout only.
She said, " Through this type of work and exploration of this data, we' ve started to gather really interesting insights on consumer demand patterns — what are people looking for, what are the elements that are going into this decision-making and choice."
Although still in its infancy at UberEATS virtual kitchens concept has some takers. One of them is Si-Pie Pizzeria, a Chicago Pizzeria.
UberEATS review of customer data revealed multiple searches for chicken near them. There were no suppliers. Si-Pie had the ability and the equipment to make chicken so they did. However, instead of adding it to the menu, they opened a virtual kitchen called Si's Chicken Kitchen. A sales review one year in found that chicken was outselling pizza.
UberEATS was launched in August 2014 as UberFRESH. Its current name was adopted in 2015.