Uber has set some strange rules of engagement for their independent contractor drivers. On the one hand, they demand safe driving on the other they stand by customers before their drivers. This has caused a lot of confusion in the past, and only recently has Uber begun to realize how stupid they really are. Based on this awareness, they have started to support drivers in certain situations, and one of these situations is the upholding of Uber rule: "Thou shalt not take underage passengers unaccompanied by an adult."
One such driver had to stand by her decisions to say no, and then demand that Uber stands by her decision.

Video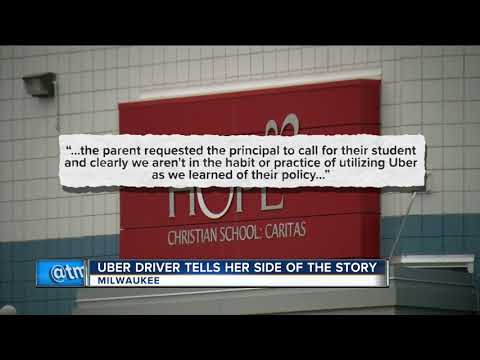 This is the biblical story of a Milwaukee Uber driver that had to fight an evil school worker and then fight her way through the bureaucratic demons of Uber to reach her salvation for being a good person and an even better driver.
Location: Hope Christian Schools.
Driver: Andrea, from Milwaukee said that she was reported to Uber for being professional and for following Uber's rules. She was also given a very bad review and rating.
The Hope Christian School spokesperson confirmed that one of their employees reported the driver for refusing to take an underage kid from the school.
Andrea tells us that It was a Thursday morning in April 2018, when she went to pick up her ride from the school. When she arrived, she was surprised that a small child of about 8 years old got into the back seat and closed the door. Andrea did not accept the situation and told the child to exit the car; she also told the school employee that she will not drive and unaccompanied child, its against Uber rules.
The school employee explained to Andrea that loads of kids take Uber alone. Andrea did not care who or what did when and how she was not taking the kid alone. This led the school employee to give a bad review of the driver as well as complain about her.
After Andrea reported the issue to the press, the Hope Christian School spokesperson sent us this statement to the media: "As mentioned last time we connected, we are not in the habit or practice of utilizing Uber to transport students. You may recall that the parent requested the principal to call for their student and clearly we aren't in the habit or practice of utilizing Uber as we learned of their policy against transporting unaccompanied minors in this instance."
After Andrea sent Uber her side of the story, Uber cleared the issue from her record.
Andrea's final words on the subject were "As much as we wanna look awesome and have 100% acceptance and no cancellations we also need to think about the safety of others and their situations like these that may come up."
My take
Andrea is like many other drivers that face similar situations on a daily basis. Uber does not immediately side with the driver, and for some reason, the initial response is to cite the driver in their record. Only after a driver can report their side of the story will Uber correct their initial response.
I think that Uber should put in place a complaints system that does not do anything to the driver until the driver has had time to respond. In a country that values its legal system, Uber is more in line with ISIS, where you are shot first then found guilty even when innocent.