Via is an exciting new platform that provides a new business model and transport service that is as yet not developed by Uber and Lyft. In essence, Via is a commuter shuttle service, where drivers have a specific pick up and drop off location. Riders will walk to the location and ride off. The locations are situated in easy to access area's, and the price is sufficiently low to be attractive.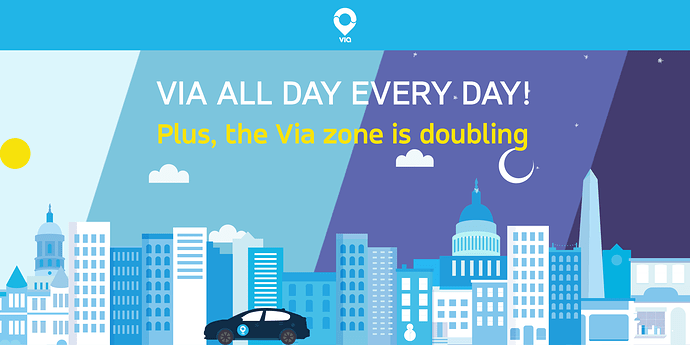 The business model is different from Uber and Lyft in that it incentivizes drivers to match with riders and build up a relationship with a route. This means that drivers will become constant shuttle services along with a specific route, enhancing the riders experience and building up a relationship. Via is a social gig transportation platform.
Since Via is a shuttle service, it operates best during peak hours, such as morning commutes to work, evening commutes back from work. This makes driving for Via easier and less complex, with fewer miles lost in waiting. It also simplifies the "pool" ride, where passengers get to know each other over time and rather then suffer those crazy stranger episodes with UberPOOL or Lyft Line, Via creates social patterns through its service. Riders become groups that ride together with a specific driver. In this way, Via is closer to an airport shuttle service or standard bus line then a taxi service.
The more rides a driver takes one, the higher his income multiplier becomes. This means that the more riders you get, and the more rides you make, your income increases. Which is a stark difference to Uber and Lyft? Add to this the 5-10% fee payable to Via, which comes in stark contrast to the 25% fee Uber and Lyft make. Via is definitely more driver and rider-friendly than its competition. Drivers actually get a bonus for taking on more riders, anywhere between 5-20%, the amount varies depending on which city you drive.
Rocket Pay
Via has a pay multiplier called Rocket Pay; this is like Uber surge, it is applicable during certain hours and in certain locations when pressure creates higher demand and drivers will be given an added incentive of anywhere between 1.3-2.5x
Locations
At the moment Via only operates in three cities, but it is increasing its hold in these cities. They are Chicago, Washington D.C., and New York City.
Support
Unlike Uber and Lyft, but perhaps maybe since they are still small and don't have to deal with 3 million drivers globally, Via has immediate and efficient live driver support. This means that whether you call or text, an actual Via representative will take our request and deal with it personally. I hope this will continue to grow while the company expands. However, CRM systems tend to automate as the customer network grows larger.
The Via Social Network
Unlike their rivals, Via is all about making the experience appreciable to all. This means that drivers take on standard routes at specific times. Passengers group up and take specific rides together. Creating a cohesive group that enhances the experience. It also allows drivers and riders to interact, unlike with Uber where drivers are deactivated if talking to a rider off shift.
Education
Unlike UberPOOL or Lyft Line, Via educates its customers from the very first day. This is exceptionally good since it makes riders understand and appreciate the situation each individual is placed. However, what makes this work is the fact that there is no, first or last stop argument, there are specific locations and stops are known up front. This reduces friction and aggravation, especially when passengers might come last and get dropped off first.
Niche App
Via is a niche app that is coming in to take up one of the lesser saturated services provided by Uber and Lyft. They are setting up a coordinated city-wide shuttle service, which is essentially a bus service for the gig economy. All they need to do now is a partner with an autonomous vehicle giant, such as GM, and they can assure that their services will continue well into the next transportation technology era.
Conclusions
We all know of Uber, Lyft, and other companies outside the US, such as Didi, Ola, and Grab. However, there are many more niche apps out there, such as Gett for taxies and Via for shuttle services that go unnoticed amongst the sector's giants.
Essentially there is room for more rideshare companies in the US. Uber is not secure, neither is Lyft. If a gig rideshare company comes along with a better alternative to driver's income and customer fares than the market will talk with its feet. Marketing is essential to bring the word to the masses, but more importantly is how the service is accepted by the masses.
What Via has done is created a strong position in a niche market that only recently got the attention of Uber and Lyft. However, with Via's approach, the driver and the customer get both a financial incentive as well as a ride experience that outshines Uber and Lyft.
Based on these two core features, together with the millions that Via has successfully raised from private investors, it won't be long before we see a massive surge of Via drivers and lines coming into being all across the US.
Just for my reader's understanding, a gig economy is about an app., a service, and manpower to deliver a customer service experience. This means that Via does not need to invest billions in starting up, it does not need to grow exponentially like Uber, all it needs to do is fly on the tail of the rideshare success and start to "steal" drivers away from Uber and Lyft. So long as there are drivers, there will be a service, this means that Via needs to concentrate on the rider, and this comes with drivers acting as ambassadors as well as using standard marketing (for which the millions of dollars are needed) and word of mouth.