Some feature changes have come in the latest list of Uber's "180 days of change." These features are around Uber wait times, long distance pick-ups, cancellation fees, and toll fees. This article will review these changes and provide insights into how Uber is improving the ride income experience for their drivers.
Long Pick Up Requests
Uber's latest release provides drivers with a long-awaited income increase. The story: Many drivers receive a pick-up location that can take over 10 minutes to travel. This traveling time and distance are not calculated into the Uber passenger fee. Now, Uber has decided to change that and included the following rate for a long distance pick-up:
The long-distance threshold in LA is 8 minutes (each city has a different limit), around 10% of all requests fall in that extended period, so if you receive a pickup that is 20minutes away and you factor in the first 8 minutes, you will receive the following result:
If you drive longer than the 8 minutes and adding an extra 4 miles, and 11 minutes you will earn an additional UberX rate for mileage and time which is $0.9075 per mile and $0.165 per minute. This adds up to $3.63 for distance and $1.815 for the time that gives you a total addition of $5.445. This is added to the actual trip.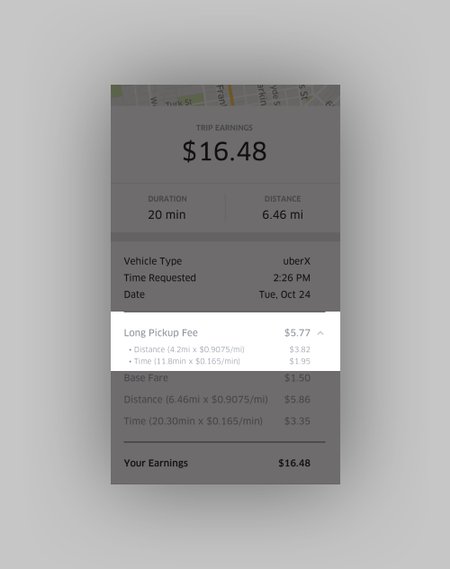 This new feature commenced on October 23rd, 2017 and was made available in New Jersey, New Orleans, Austin, Milwaukee, Honolulu and Fort Collins. By the end of 2017, it will be open to all UberX and Uber Pool drivers and cities in the US.
This feature is a very good addition; it helps a lot in rural areas where the driving distances can be longer and more costly to the driver. In large cities, it tends to be less noticeable, unless applied to rush hour traffic.
Late Cancellation Fees
Another upgrade to drivers income will be from late cancellation fees. One of the many annoying aspects of a cancellation is when it happens a few moments from the actual pick up point. When adding drivers that drove twenty minutes to reach the destination, it's even more annoying. Now the cancellation fee will go up based on how long it took to cancel. The new fee is miles and time based, so the more you travel and the longer you travel, the higher the destination fee.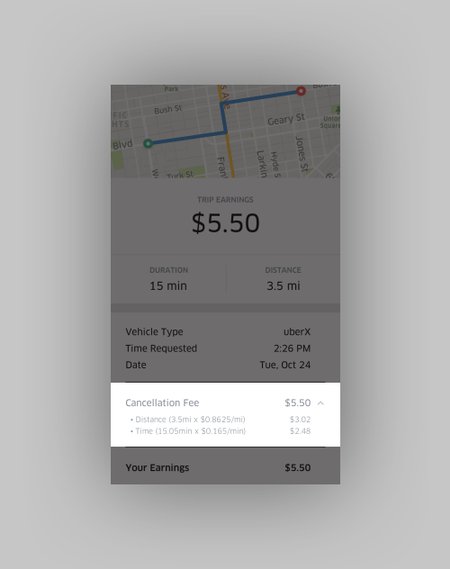 For instance: If you received a request that was a 20-minutes drive from your location, and after 15-minutes and 3 miles of driving the customer canceled, you will earn around $5.5 rather than $3.75 which was what you got paid in the old system. The time and distance are charged based upon standard UberX rates.
This new addition was made available on October 23rd, 2017 to a few cities and will be available for all the US at the end of the year.
Check out: What's the average uber cost
Here is the list of cities where it is now available:
Philadelphia, Phoenix, Yuma, Flagstaff, Western Arizona, Minneapolis, St. Paul, San Diego, Sacramento, New Jersey, New Orleans, St. Louis, Western MA, Worcester, Boston, Portland, Maine, New Hampshire, Burlington, Maui, Kauai, the Big Island, Lawton, Las Cruces, Taos, Gallup, Albuquerque, Santa Fe, Inland Empire and Reno.
This new ETA cancellation ratio is a good addition, although most experienced drivers tend to call long distance pickups just to check the request is OK. When receiving a long distance pickup, before you start to drive out, call the passenger, explain it will take so many minutes to arrive and make sure they are ready for the wait. If they seem anxious, try to have them cancel the ride before you leave.
Wait Time Fee Increase
An annoying part of the pick up is waiting, especially when the wait is in a congested or awkward area that can cause drivers a lot of hassle. Even when in a suburban area, waiting is still an issue, drivers like to drive and work, not stand idle waiting for a customer to finish their last bite or last word.
The difference in wait time will vary per city for instance in SF it will rise from $0.165 per minute to $0.25 per minute. This might not seem like a big difference, but when waiting for 15 minutes, it becomes a $3.75 instead of $2.475 which is a $1.275 increase. It all adds up over the month and increases the driver's income as well as reduces waiting times for some of the passengers. The wait time only applied before you start a trip. Once a trip has started the fees are per regular standards.
Wait time increase was added to spur passengers into speeding up their pickup times. Drivers would prefer quicker pickups than waiting, even if they do get a better increment of pay.
Tolls
Uber states that drivers do not need to pay tolls, either going out with a passenger or going to pick-up the passenger. Uber also made changes so that drivers on the non-toll side get prioritized for pick-up, instead of sending the request to whoever's the closest, even when the driver has to pass the toll. All drivers are equipped with a transceiver that automates the toll payment process and allows the driver to drive through without stopping. Uber will automatically add the toll for the pick-up to final fare. Some cities and areas have a lot of tolls, and the new upgrade will make this process for drivers efficient.
Longer Hours, More Income
Uber is starting to award their drivers with more income for all the extra hours and miles they drive. The new upgrades mentioned in these articles add up to collateral income, income generated from more issues will generate more money. So the more you drive, the more you can make.
Ever since the changes in the executive board, Uber has been providing a lot of solutions to many issues that went untouched for years. We just hope that these changes don't come in too late.