Brazil's congress decided to vote in favor of ridesharing and stop over regulating the service. Uber, as well as its rivals all, relaxed at this decision. It was actually brought about by the pressure of the people, where Uber is considered to be friendly to the populace. São Paulo sees an increase of around 500 new cars on the roads every day. While many two-car families have actually cut back on one and retain now only one car. That single car is used more frequently, and the famous São Paulo gridlock is easing up, all due to Uberization.
There are three main contenders for the rideshare leadership title in Brazil; there is US-based Uber, Chinese Didi backed Brazilian 99 and Spanish Cabify. The number of rideshare alternatives rose due to the public demand for more modes of transport. Even taxi's and public transport systems gave up fighting this expansion, realizing that the outcome is enviable. The São Paulo metro carries around 5 million passengers daily along its 80km routes, and the addition of rideshare has only improved the metro's services.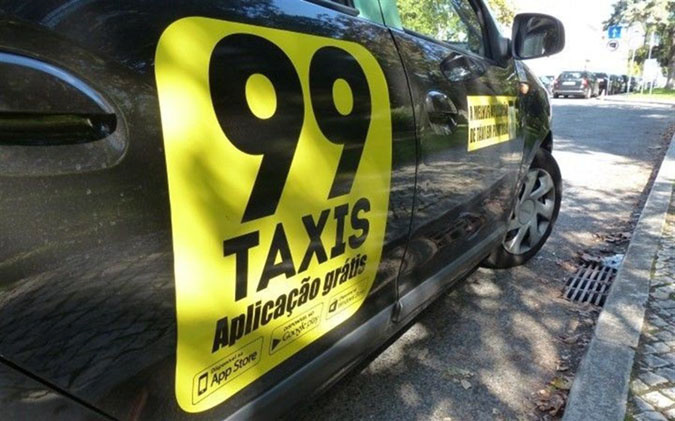 According to Fabio Sabba, Uber spokesperson in São Paulo, more rides are taken in São Paulo than in New York City. Based on Uber numbers, there are 17 million users in Brazil and half a million drivers, which makes Brazil Uber's second largest single market after the US. Alongside Uber's figures are 99's, which attest to 14 million users and over 300,000 drivers, while Cabify claims to have 3 million users and keeps its number of driver's secret. Based on these figures alone, there are around 35 million users in Brazil and over 800,000 drivers. They work together in one of the worlds most congested marketplaces, where traffic comes in fourth place after LA, Moscow, and NYC.
Sabba went on to tell the media that Uber is reaching area's that public transportation did not cover, the outer reaches of the cities. Uber has now given access to the metro and other public transport services to millions of people that were restricted due to geographical location.
São Paulo is also the home to an all-women's rideshare company called Lady Driver headed by Gabriela Corrêa. Another innovation coming out of São Paulo is Avenida Paulista, a helicopter rideshare service that is the combination of Voom, a helicopter on-demand booking service and Avenida Paulista's helipad locations, which according to some, are more numerous than bus stops.
Local rideshare company 99, headed by Matheus Moraes, recently enjoyed a $1 billion take-up over by Chinese Didi, and they intend to use this injection of capital to eradicate gridlock and traffic issues within the next ten years. According to Moraes, 99 will start investing in a "smart city" project, where traffic management is the main issue. Moraes started testing the initial application in Porte Alegre, which is in the south of Brazil. The project will install digitally controlled and monitored traffic lights and enmesh them into a digital map of the city. A queuing factor and risk analysis algorithm will drive the program, and by GPS coordination of all cars, the program will be able to divert traffic that appears to mass up, from one area to another. Balancing out traffic to a minimum of pressure in any one given area. According to the findings so far, traffic incidents have dropped by 80 percent in the last half a year.
Another interesting addition to the Uberization of Brazil is the state of roads in São Paulo, which is a concrete jungle, much different to the natural and luscious nature of Rio. Drivers will find cars packed into hundred-mile strips, and helicopter rides are commonplace in this city. The former mayor of São Paulo, Fernando Haddad started an initiative back in 2013, a five-year plan to map out and build cycling routes all around the city. There are now over 460 km's of cycle routes in the city, not all the routes are traffic safe, but in general, the city is changing the way traffic is handled n relation to bikes. For instance, Paulista Avenue and the Minhocão highway transport over 80,000 daily, on Sundays these two routes are closed to cars, making way for cyclists.
Bike sharing gigs are popping up; one such scheme is backed by Itaú Unibanco bank. They have over 2,600 bikes and 260 solar-powered stations around the city. With all this new integration, accidents still remain high, and last year around 31 cyclists died in road accidents. The problem is the layout of the cycle lanes, where some just stop when reaching the main traffic section, and cyclists have to cross heavy traffic to continue. The current system is on the right track but needs upgrading to a higher level of safety and confidence. Many cyclists have given up on the initiative due to the dangerous nature of the city's traffic system. Today, only around 7% of the city's residents claim to ride a very bike day, and while the initiative is based on good intentions, São Paulo is not yet London.
To conclude this article, it seems that there are countries where taxi drivers fear for their lives and prefer to remain rigid in their ways of thought. Some revert to extreme violence, as we had seen in Turkey and South Africa, while in some countries, taxi drivers realize that the war was over even before it started. Once there is a cohesive collaboration between every involved side in transportation, a country can start to evolve and benefit from the new gig economy. Brazil is one such country, and it looks like its diversity and style make it excellent testing and proving ground for all rideshare investors.