Promotions are a brilliant scaling scheme for any other company and they may be rolled out from time to time in order to seize a competitive market. Since its founding, Uber has been in the culture of launching various promotions and programs that are aimed at making it the best and most valuable transport network company in the world. They have had various promotions that have come and gone and it is lucrative whether as a driver or a rider to be aware of the trending Uber promotions in order to enjoy the offers that can save you several bucks. The following are some of the popular and most lucrative promotions Uber has always had:
What is Uber Earnings Boost?
This is one of the programs Uber launched to incentivize its partners by surging their fares while maintaining regular prices for passengers. The model has been performing so well that it is claimed it may be slowly replacing the hourly guarantees and the Power Driver Bonus(Lyft) programs for Uber and Lyft driver partners.
There is no predefined eligibility for this program; as long as you are a qualified Uber driver with a partner app, at any moment Uber may send you a notification email to let you know that you are now eligible for the Uber Earnings Boost, otherwise while on the road an Uber Earnings Boost notification will display within your driver partner app.
SEE QUALIFICATIONS TO BE AN UBER DRIVER HERE.
When And Where is This Program Available?
The Earnings Boost notification whether via email or the app shall display the Uber Boost times for that particular week including the current day.
The Boost hours are always during the times when we have fewer drivers on the road, during rush hours, or any occasion when there is a notable increase of movement of people in the streets of the towns and cities. It can be very predictable i.e., during party hours on Friday and Saturday nights – a time when Uber usually offers a surge fare to drivers encouraging them to get out on the road and make rides.
Where these Earnings Boost take place depends on the demand to have more drivers on the road which in turn is determined by human movement activities in an area i.e. a metropolitan city like Los Angeles experiences a lot of human movement in some days of the week, therefore, Uber has already determined when these days are Boost days and it is important to note that these Earnings Boost do not occur every week and also not in the same city always. To know the area coverage for Uber Earnings Boost, in the driver app, a red territorial boundary is marked like below.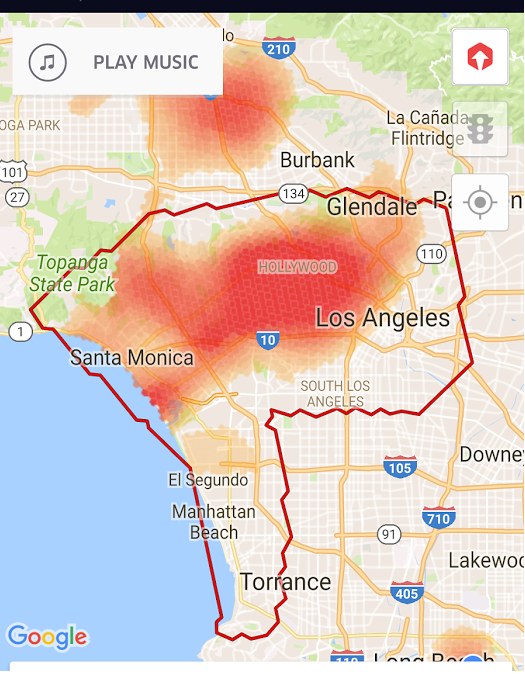 As shown above, any Uber driver on the road within the geo identified space on the map in your partner app will earn more by having their fare multiplied by a factor that is predetermined depending on the hour and the following are the multiplying factors for the fare earned for all trip requests:
1.4x Friday 4am-9am
1.1x Friday 12pm-3pm
1.4x Friday 3pm-7pm
1.2x Friday 7pm-10pm
1.4x Fri-Sat 10pm-3am
1.3x Saturday 4am-9am
1.2x Saturday 12pm-5pm
1.4x Sat-Sun 5pm-1am
There are no hard and fast rules on eligibility of Uber's Earnings Boost and upon reception of a notification email, the terms contained therein clarify that:
There is no predetermined number of average rides a driver needs to make
No kind of opt-in involved; it is open to all drivers within Boost area
Any trip request must originate from a Boost area
No acceptance rate component
Uber Earnings Boost has really offered more than a deal to many drivers especially those that come from busy populated cities and therefore next time you are on the road, keep an eye on your app just in case Uber wants to give you a Boost.
Hourly Guarantees
The guaranteed hourly earnings program was introduced in a bid to cut costs and increase the influx of money which means drivers would earn more fares. This was a strategy to increase the demand for drivers in a competitive market where Uber is always rivaling with Lyft. Based on regional demographics and economic situation, these price cuts may differ from city to city and this determines what hourly guarantee pay a driver receives upon making the average number of trips required in an hour.
Therefore hourly guarantees are what you earn in an hour for completing at least the average number of trips required (as per the program) for the hour block. Usually Uber can tell an estimated amount of money a driver can earn in an hour and in case they fall short of their hourly earnings, Uber would always pay them the difference.
Uber usually deducts 20% from the hourly guarantee rates and rewards the 80% to the driver.
Passenger Referral Program
It seems that these promotions are not only tailored for Uber drivers but also Uber riders and the passenger referral program is no exception. What happens is, the driver creates a personalized referral code for a free ride worth up to $20 which is a free ride credit. Once created, they can then choose to share it with family, friends, and colleagues or even on social media and whoever gets to use it eventually, the driver that shared it will be credited with $30 in ride credits.
It may surprise you why a driver would even need ride credits, but here is the thing – drivers too take days off and resort to party like the rest of the riders that would afterward hail at an Uber to come pick them because of their drunken state. During such occasions, a driver is prohibited to be behind a wheel and therefore that is when he/she could actually use his/her ride credits to ride an Uber home without incurring any personal costs.
This referral program is only available in select cities and the passenger referral codes only work for new accounts and must be entered prior booking a first ride. It is also important to know that the free ride credit cannot be redeemable for cash and one cannot transfer the ride credit. Upon rewarding of the ride credits, they shall be valid for the first 30 days.