Uber's third-quarter financials show the company is growing, but at the same time, it is continuing to lose money on a grand scale. Here are the salient points as published in the Wall Street Journal.
Gross bookings: $9.705 billion versus $8.741 billion last quarter (up 11%).
Net revenue: $2.013 billion versus $1.658 billion last quarter (up 21%).
Net income: -$1.462 billion versus -$1.064 billion last quarter.
Total assets (including cash, cash equivalents, investments, and more): $15.64 billion versus $15.708 billion a year ago.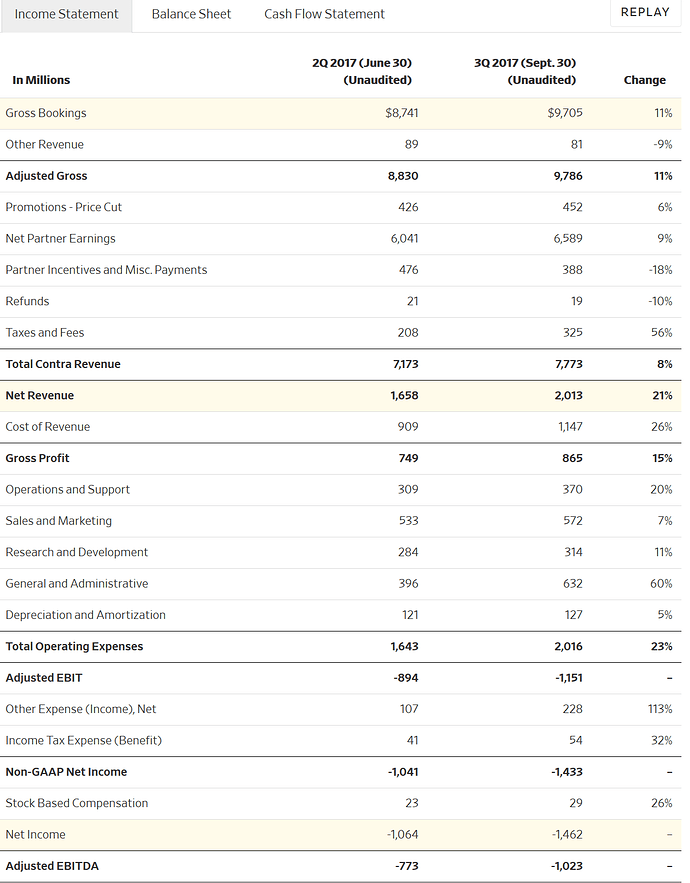 While Uber continues to grow, it is also continuing to deal with the fall out from Travis Kalanick mismanagement. At the same time, Uber was successful in closing the SoftBank deal which injected a much needed $10 billion. Uber's CEO Dara Khosrowshahi is now leading the company to a much sought after 2019 IPO.
https://test.ridesharingforum.com/t/tesla-warns-uber-lyft-or-commercial-drivers-not-to-use-its-superchargers-or-risk-losing-access/536