One of the biggest drawbacks that pulled Uber from really advancing was their fanatical guarding of information. While it is obvious that some data should not be released for competitive reasons, when negotiating expansion, transportation companies have to collude with cities to create trusted partnerships.
Uber is now opening the flood gates of data and is starting in Washington D.C. The exact data that Uber will be sharing with the metro transport system is "Curb" data. Curb data is one of the most important parts of transportation information around. The curb is where all forms of land transport meet with pedestrians. Cars, Trucks, Bikes, Bicycles, Buses, Coaches, Trams, you name it, it will meet the curb. Parking, unloading, loading and just waiting, all is done on the curb side. On top of all of this, you have cycle lanes and pedestrian crossings.
One of the most coveted zones is the staging zone for taxis and rideshare companies. At the moment, the only data available was the old data, companies like Uber and Lyft do not share their curb data with cities. All this is changing now, as Uber realizes that in order to truly mingle and mesh within a municipal transportation system they have to be a part of the system. The only way to be a part of the system is to prove you are there, and this proof comes from data sharing.
Former NYC transportation commissioner and current Chairperson of the National Association of City Transportation Officials (NACTO) Janette Sadik-Khan told the media that "The autonomous age is upon us, but most cities really don't even have the network password to log in. The data is essential, but because so many companies wouldn't share the data, we were planning blind."
NACTO lead the initiative to bring in Uber and begin a new age of data sharing. Uber will work with NACTO, which has set up a data sharing project called "SHaredStreets" as an intermediary to ease the transfer of sensitive data between the company and D.C.
The Director of D.C.'s Department of For-Hire Vehicles Ernest Chrappah said in regard to the new collaboration between the city and Uber "Data today is worth more than gold, oil, and cryptocurrency." Basically, stating that he is very pleased with the new situation.
SharedStreets is a platform that will allow many different data sets to meet and will create a standard nomenclature to allow the data to sit in relevant fields for presentation and calculation. Most data come in proprietary form, where a lot of private companies like Uber have written their data in bespoke systems. Creating a platform that will allow all data types to meet, interact, integrate and then be used in one common language set for all, will invariably create an oasis of important transportation data that is sorely needed to improve traffic and transportation.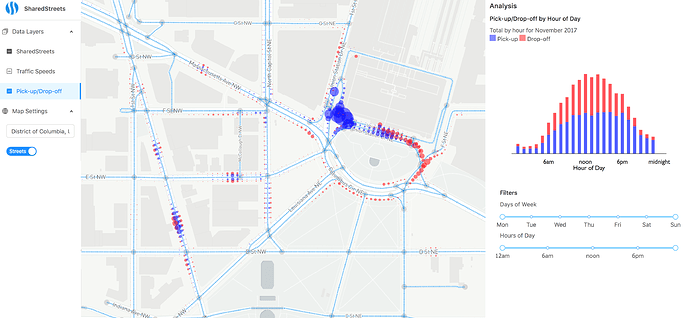 Startup Remix engineer, Michal Migursky explained that "All of these debates that people are having, you have to have some kind of shared truth. You have to have an agreement on how many miles of streets, how many miles of curbs. If not, it ends up devolving into testiness early on."
Another issue that SharedStreets is meant to contend with is data privacy and security. As an intermediary set up to facilitate data sharing and not as a third party interested in trading in data, SharedStreets bridges the gap between untrusting private company data owners and "public" systems used in cities.
Head of Uber's Transportation Policy, Andrew Salzberg said that "They have made it very clear that they understand private companies have legitimate constraints on what they do with data."
Uber is working together with SharedStreet to create the framework that will enable data sharing but keep data anonymized and totally secure. The main issue that Uber wants to be kept private is specific driving habits, whereas the cities are only interested in statistical data from daily driving. By creating a specific framework and code, Uber will be able to secure its data while it shares the statistical information.
SharedStreet is only one platform that competes for this kind of service. There is also Coord which comes from Alphabet's Sidewalk Labs and also Ford's Transportation Mobility Cloud. However, these two competitors are private companies, while SharedStreet is an NGO. Uber feels much safer connecting with the NACTO than with Alphabet or Ford.
Stephen Goldsmith, a big data specialist from Harvard Kennedy School, explained that "I think it's a good first step. If SharedStreets could become the place that could assure the private providers that they would protect the information but provide it in a usable form to the city for planning purposes, that would be very helpful."
This is nice timing for Uber. The ride-hail company is in the midst of a PR glow-up, eight months after dumping former controversial CEO Travis Kalanick in favor of the ultra-apologetic Dara Khosrowshahi. With a spate of announcements this week—about SharedStreets, its acquisition of a city-friendly bike-share company, and a mobile ticketing integration with public transit—Uber is working to prove it can be an excellent partner for cities.
SharedStreets.io is "Funded by Bloomberg Philanthropies, our partners include the World Bank, WRI, the OECD International Transport Forum, and a growing list of private-sector innovators." According to their website.