Uber leader Dara Khosrowshahi invited 35 drivers to a secret meeting in San Francisco to discuss everything from driving to earning and everything in between.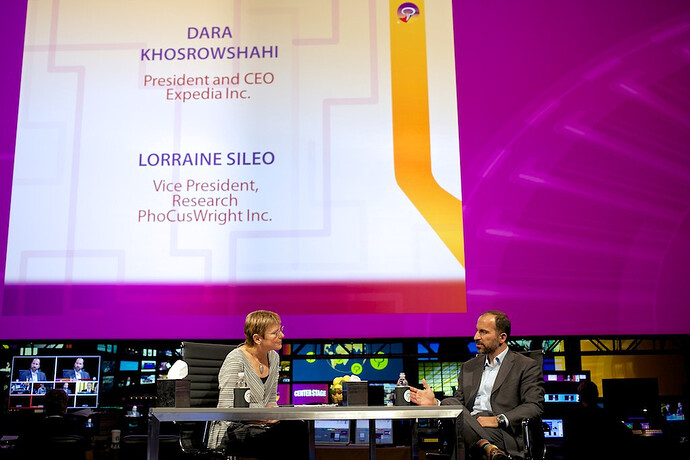 By George Grinsted from San Francisco, USA -
https://www.flickr.com/photos/imgeorge/8188841859/
, CC BY-SA 2.0,
File:Dara Khosrowshahi & Lorraine Sileo - 2012 (8188841859).jpg - Wikimedia Commons
Among the Uber drivers that were invited were Petra Vallone and Bill Steigerwald, these were the only drivers allowed to talk to the media about the closed-door session.
On January 15th, Vallone was flown in from Glendale, Arizona along with 34 other drivers from all over the country. Uber put these lucky 34 up for a two-night stay in Nikko Hotel, as well as a $500 stipend for expenses during their stay. The official meeting was called the Inaugural Driver Advisory Forum 16th January 2018, and it as aimed at fixing the bad relations that developed over time between Uber executive and the drivers, mainly due to Uber founder and ex-CEO Travis Kalanick's bad management.
Khosrowshahi understands that the $72 billion gig economy is reliant on the goodwill of the 3 million independent contractors that drive the Uber customers. After protests, lawsuits and class actions filed over the last five years; Uber executives are now facing their most scared asset, the driver.
The facts show that only 20% of just over 75,000 drivers in the US stay with Uber for more than a year, the rest usually last between one to three months. After Kalanick's takedown, the executive board initiated a "180 days of change" and brought in a few changes that were long overdue. However that was only a technical change, the real one had to come from within. The real change was to be made in the corporate culture.
The first step in this much-awaited change came in December 2017, when Uber announced that it would set up a bi-annual advisory forum made up of Uber drivers and the top executives. This select group would be flown to San Francisco to discuss everything Uber.
Vallone said "It's a work in progress, for sure, but I think they are trying hard. Otherwise, they wouldn't think about getting their drivers together and having their feedback."
The first day of the forum focused on Uber's phone support, e-mail support, drivers pay, and the Uber app. Steigerwald, who comes from Pittsburgh, said "I got the sense that they were genuinely interested in hearing from drivers. It was clear that they were determined to change the culture of Uber from the headquarters down to the drivers."
Khosrowshahi tweeted twice; "Great convo with drivers from all over at our very first Driver Advisory Forum," and after the forum was over, "Awesome feedback that will feed into our product roadmap and business strategy going into 2018. #BuildingTogether."
Steigerwald was extremely happy to meet with Khosrowshahi, and after driving over 60,000 Uber miles in under 3 years, he stated that meeting Khosrowshahi was "sort of like the grand finale."
Khosrowshahi allotted 45 minutes of his time to the meeting and answered their questions. He also told them that the new Uber would be more appreciative and attentive to the driver's needs. According to Steigerwald, Khosrowshahi told the drivers "We've had a lot of drama. Thanks for sticking with us,"
Apart from Khosrowshahi, the drivers met with most the senior managers including the COO Barney Harford and regional GM for the US and Canada Meghan Verena Joyce. Vallone told the press that "It was packed with teams coming in and talking to us. They split us up into little groups so they could get more feedback."
Both Vallone and Steigerwald agreed that the old Uber would never have made such a gesture and that this forum proved that there was a change in the air. Vallone offered the Uber app development team to create a more comprehensive GPS solution that would counter any rider disputes, and she stated that "The 180 days of change were all huge improvements that should've been done three years ago." Steigerwald wanted to see more destination filter improvements.
My take on this is that Uber is out to retake its position in the world. It has been slowly retreating from too many battlefields including Russia, China, India and the rest of Asia, and it now has to face off after a defeat from Waymo. The only way Uber can reclaim its supremacy is through its main resource, its drivers.