It seems that all is not well in India. Just after Khosrowshahi's visit there and his desire to see India grow for Uber, the drivers decide to drive their point home by hitting Uber where it hurts, in their pockets.
What US Uber drivers can learn from their Indian counterparts is how to bring home a point without unionizing, just by collaborating.
Indian Uber and Ola drivers are striking indefinitely until their demands are heard and met. The strike is nationwide with different organizations spearheading the strike in each city. Uber and Ola were given fair warning, but it seems that no one was listening.
Maharashtra Navanirman Sena (MNS), an Indian political party (Sons of the Soil) is behind the organization of the strike in Mumbai that is spearheading the cities strike, while the driver-owners in Pune, Bangalore, and Delhi are in charge of their own strike organization, with Hyderabad following soon.
The president of MNS, Sanjay Naik stated to the press that the strike is total and covers only Uber and Ola drivers, "We have the support of nearly 80,000 drivers, who will go offline at midnight. Thousands of drivers and their families will also protest outside Ola and Uber's offices on Monday morning."
The strike comes after months of debate around the base pay of drivers in India, which is exceptionally low in comparison to other countries. The MNS leaders will call off the strike only after their demands are met and these demands include some guarantees to assure drivers of a basic income, such as a guaranteed ₹1.25 lakh a month in ride income, removal of company-owned cars (Ola) and the reinstatement of blacklisted drivers, (Which will not be made by Ola or Uber since blacklisted drivers are usually those that have failed in delivering a satisfactory driving experience to customers.)
What is interesting is that the strike is being managed and organized by a political party, not a Union, and this model can be readily copied by any other Uber drivers group around the world and does not go against any of Uber's contractual constraints. Political activism is a legal right held by any individual in all democratic countries.
In the case of MNS and India, a lot of drivers fearing reprisals from Uber and Ola management have decided to just go offline, without appearing en-masse in front of the Uber or Ola offices of fear of being recognized and blacklisted for their participation in the strike.
According to the drivers, the new business models make them earn less than autorickshaw drivers, as one Uber driver stated. "We earn less than autorickshaw drivers on an average for covering the same distance." Another driver stated that after driving around 100 miles a day every day for a week, he only earned ₹30,000 in that week. He said "Over time, the incentives have changed from a daily-trip-based system to a dynamic one, where I have no surety of earning an incentive. In the last couple of months, I have barely made ₹20,000 after driving for 250-275 km a day."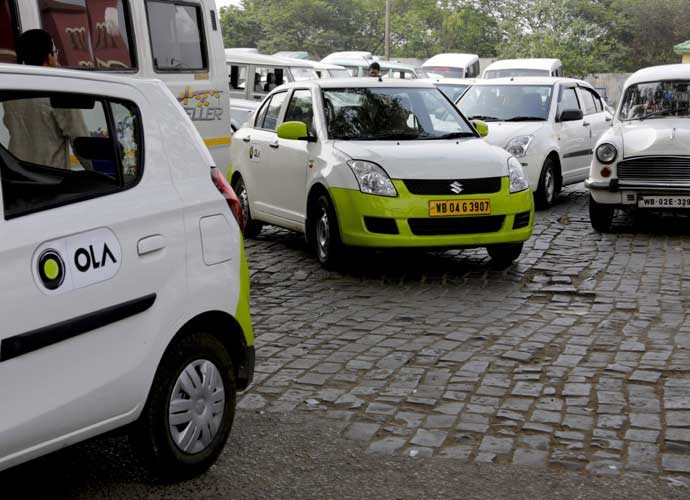 The drivers of Ola are upset with the company since they have also company owned cars, and as one driver said about company-owned cars and drivers, "They have to wait and travel a lot less to their pick-up location."
The outcome of the strike will be reported here when we learn of it.