One of the many hundreds of cases being directed against Uber had taken an unusual turn when U.S. District Judge Jed Rakoff in Manhattan told the plaintiff Spencer Meyer that his case against Uber and against ex Uber CEO, Travis Kalanick will be dropped unless he goes into arbitration. Basically, Judge Rakoff's ruling forces Meyer's case out of court and into the arbitration sector, which was a part of the clause that customers sign when using the Uber app. Some critics of arbitration clauses state that these clauses are buried underneath many layers of text and when found out usually dissuade would be plaintiffs from pursuing class action or any other claims at all.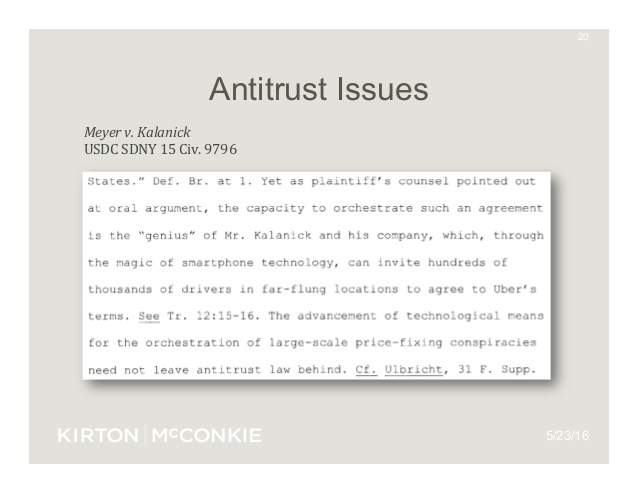 Meyer accused Kalanick and Uber of conspiring with their drivers to charge "Surge Prices" during peak hours, forcing passengers to pay exorbitant amounts which are shared between Uber and their Drivers.
Meyer also stated that the arbitration clause hyperlink was hidden by the keypad on the app, so he never even saw it and therefore did not agree, by de-facto deliberate design for customer ignorance, to its contents. The lawsuit opened in December 2015, and Uber countered the keypad argument by waiving it since they stated that Meyer could have raised the issue sooner. Kalanick also asked the court to dismiss him from the case since he is no longer Uber's CEO.
The Federal Court of Appeals reinstated the arbitration provision in August 2017 which overturned Judge Rakoff's previous ruling stating that arbitration was not forcible. The
On Aug. 17, the federal appeals court in Manhattan had reinstated the arbitration provision, overturning a July 2016 ruling by Rakoff that found it unenforceable. The federal appeals court stated that Judge Rakoff now has the time to review all evidence, old and new, including how long Uber customers could view the arbitration hyperlink, especially when they were inputting their credit card details.
The U.S. Chamber of Commerce and Internet companies have argued in court that if Uber loses the case, the effect will be felt by all US internet companies with online contracts, which would undermine their enforceability.