Rideshare gig economy is not just about riding a passenger from one location to another; it's about a whole new industry created out of thin air. The wonders of internet applications and how IoT turned Uber and Lyft into a billion-dollar industry is, in fact, a trillion-dollar industrial complex.
The latest addition to the rideshare scene is not the driverless vehicles that are riding passengers around Phoenix, Arizona, but on and in the human driven cars that are driving around all over the US. Although, once driverless cars become common, they will be one big driving billboard too.
Let's take a look at some of the solutions in rideshare advertising you will find in your local Uber and Lyft.
Wrapify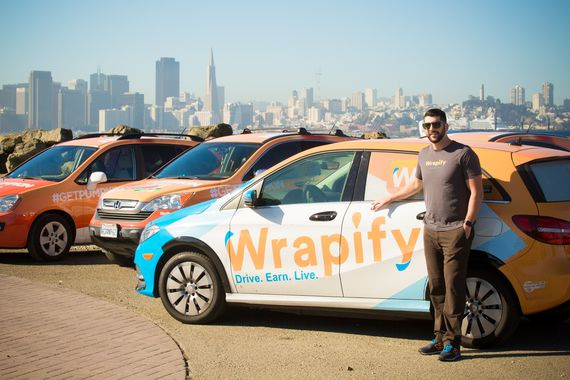 This is all about utilizing the cars space, sides, roof, etc. Wrapify offers a monthly income for car wraps, which can be a plate or a whole wrapped car. A whole wrapped car will earn the driver around $300-$400 a month, while partially wrapped cars will average between $150-$250 dependent on the wrap.
Wrapfiy co-Founder and CEO James Heller raised $5.8 million to set up this 15-person operation, and it provides passive income to drivers of all transport economies including Uber, Lyft. GrubHub, Amazon Flex and anyone that wants to earn money by advertising as they drive.
Advertising is geo-fenced, which means you only earn within a specific area, and currently, Wrapify has around 80,000 signed up cars working in San Francisco in 35 metro areas. Heller claims that eventually all of the US will be wrapped in advertising, generating billions of passive incomes for drivers that are driving around anyway.
One such driver is Brent Goodale from Fremont. Goodale drove for Uber, Lyft, DoorDash and Amazon Flex and earned $147 during March. He drove a total of 952 miles, some of that was outside the Wrapify geo-fence, but the income was passive, so he added that to his monthly earnings. Goodale told the media that "The passive income is really great although it just offsets expenses. I figure as long as I'm driving anyway, I might as well get some of that tax of 54 cents a mile back.
Vugo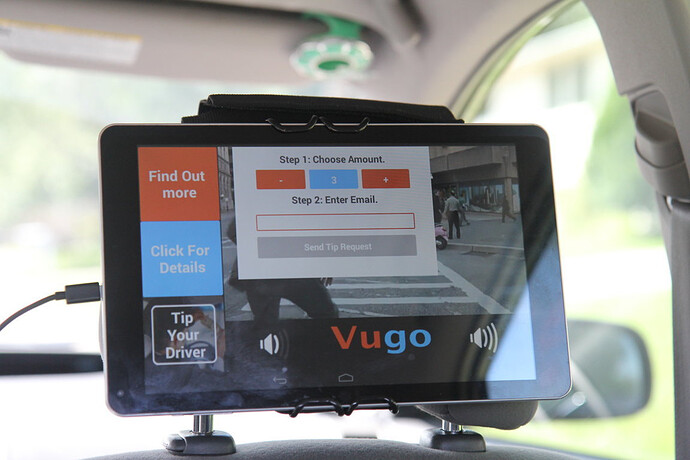 Vugo, from Minnesota, is a backseat entertainment screen that shows ads to the passengers during the ride. The screen can be turned off, but usually, it is left on by the passenger. Vugo's co-founder James Bellefeuille is an advertising agent that limelight's as an Uber driver, and came up with the idea when one client wanted to reach rideshare drivers.
Vugo targeted NYC, specifically Uber Black cars, which was not an easy thing to do. Not because of Uber, but because the the city of NY banned in car advertising until Vugo won their case in court.
This victory, which was hailed by many as exceptional, gives Vugo the ability to generate $100-$200 a month earnings for the Uber black drivers from a totally passive income source. The Vugo experience includes a mute and off button so that passengers don't get annoyed by the constant looping of video ads.
Vugo currently appears in 3,500 cars in NYC and intends to expand to LA and the Bay area during 2018. Bellefeuille stated to the media "Everyone talks about how negative experience taxi ads are; we want to prove it doesn't have to be that way. If you're going to the ballgame and running late, we could stream the opening to you, so you don't miss it."
WaiveCar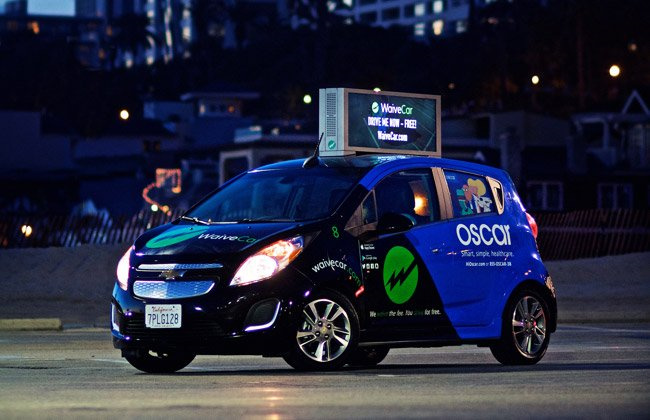 WaiveCar is a more comprehensive concept; it is not just advertising, it is a "free" and "subsidized" rental car company that provides small electric hybrid cars covered in ads to be rented for 2 hours for free and the following hours at an increment of $6 per hour. Just like the original free websites with ads on them, so here is the same idea in car form.
WaiveCar is based in Santa Monica, and its co-founder and CTO Zoli Honig states "Imagine ZipCar but free, with ads on all the cars." The metrics provided by Wavecar are what attract advertisers, as well as the $1,500 wrap per month or a $4,000 exclusive wrap per month. These figures certainly allow WaiveCar to rent out their vehicles at no cost (or very low cost) to the driver.
WaiveCar intends to have a fleet of 200 cars in Los Angeles by the end of 2018 and will include 50 hybrids in its fleet, which are aimed at ridesharing and delivery drivers. The concept is that an Uber driver will be able to take a WaiveCar for such a low price that they wont bother to buy a car anymore, just drive a WaiveCar and reduce the monthly expenses by 50%.
According to Honig, the reason why their cars are perfect for Uber, Lyft, and others is that "The ads get much more exposure. People are glued to their phones except when they're walking or driving."
Cargo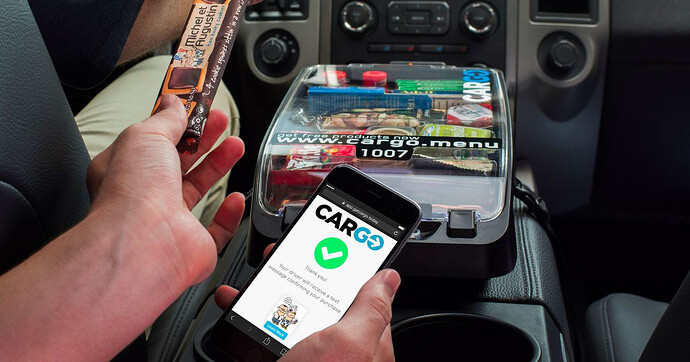 Cargo is " An in-car minibar is a fairly apt analogy" as described by Cargo founder and CEO, Jeff Cripe. Cargo is an NYC based company that provides in-rides e-commerce ads. This is the next level of advertising, where the customer can interact with the screen and order products directly with their mobile phones.
Crip explains that "Every time someone gets into a car with Cargo, our hope is that you can find essentials plus fun discovery goods to keep you interested." The ads will focus on daily consumables such as Advil, iPhone accessories, and energy drinks. The customer will ether scan in a QR code or type in a web address in their phones to place an order.
Cargo provides samples of their products to be handed out as freebies, so Uber and Lyft drivers can literally give their riders beauty products or snacks during the ride. Which is a great way to get a free 5-star rating?
Drivers will earn around $100 a month and at the moment, after nine months of operations has boxes in 4,000 cars in New York, Boston, Chicago, Minneapolis, Atlanta and Washington, D.C. They intend to expand during 2018. and have raised $7.5 million so far.
Ozzy
Ozzy is a secretive company that has not released any information, but what we do know is that there are digital rooftop ads being driven around in Palo Alto, CA. This company is providing a rooftop advertising billboard solution for drivers, which is basically adding extra space for advertising apart from the exterior of the car. According to their site, drivers can earn up to $400 a month, but we will have to wait and see. The downside in rooftop advertising is at the expense of production, the cost of fixing the design to the car and the licensing that some cities will require. So, we won't hold our breath on this one yet.
Conclusions
My take is this; Wrapify outside, Vugo and Cargo inside and drivers will earn anywhere from $600 and upwards per month from passive advertising and product selling. Basically, the marketing guys have caught up with the ridesharing gig economy and are starting to cash in on the potential.
The future is a driverless car that is all advertising, from outside, inside to entertainment…one lone advertising campaign generating income for car hire companies. The math's are simple if a car generates $300 a month income, and there are a million cars on the road, the company will earn $300 million a month! This is the future of AV taxi's, and why Waymo, Uber and all the rest are rushing to it. They not only save the cost of a driver, but they also end up making a big profit of billions a year by removing the driver form the income equation.