Uber and Lyft, two names synonymous with ride sharing, one global the other national, one with a bad boy reckless image the other with a clean and conservative image. These two companies might seem to offer the same service, but their corporate frameworks, corporate identities, and street representations are different. So, the question is; how different are they in reality, and do the customers receive different services too?
We will review these two companies and dissect the difference on functional levels taking into account the products and services offered as well as the perceived services from a customer's perspective. After all, it's not just about quantity but also about quality. We then balance the two factors; quantity and quality and compare the final value received for each company.
We look at 10 issues, they are:
1. Corporate Climate and Financials Top of Page
Uber: The New Investors: Dragoneer, SoftBank, Didi and Vision Atlantic
Bloomberg reported that Uber was seeking to raise from the investor group between $2 billion and $10 billion in total and the venture capital group has around $100 billion to use for investments via its Vision Fund. There is also talk of Vision Atlantic joining in. This investor group will most probably form a special construct (legal framework) for this investment project. The new joint venture group comprised of Dragoneer (USA), SoftBank Group (Japan) and Didi Chuxing (China). These investors came together around August 2017 to discuss a possible injection of cash as well as buying out employee shares too.
This particular round of investment will be large due to Uber's current market value set at $70 billion. Uber is also quite market ready after the recent executive board shakeup and in house cleaning. With new direction focusing on providing a more profit-making approach, such as closing Uber's Xchange leasing program that cost the company close to a third of a billion in one year and by increasing driver centered services to improve the driver-Uber relations. This new deal allows employees and other investors to cash out, which had been restricted until now. In fact, Uber has been buying back shares from employees during the year. The new CEO Dara Khosrowashahi stated that an IPO was also being considered, but that would only be viable after at least 18 months.
Uber: Dara Khosrowshahi, CEO
It took a few months, from July to be exact when Travis Kalanick stepped down, to find a replacement. Ubers executive decided on Expedia's CEO Dara Khosrowshahi, and he accepted the challenge, and a challenge it will be.
Dara's first main challenge will be to restructure Uber's business model, analyze with of the many loss centers are only loss centers and cut them out. He will also have to find ways to stem the continuous growth in favor of strengthening Ubers hold in all the centers it currently has. The Uber concept is a sound one, the process that Kalanick used to reach such a megalomanic position was financially suicidal, and that is reflected in the company continuous $2-3 billion losses per annum.
What most people don't like to remember or don't know is that around seventy percent of all ventures close due to financial insolvency, or to put it in layman's terms, the idea is great, but it just can't sell. It appears to be the same case with Uber. Since Uber is a black hole for funds, it might need to be cut down to a more manageable size. We won't go into how we would do this, that's for the new CEO to figure out, and also take into account all the shit that's going to hit the fan once the government probes start to swing into full gear alongside the many high profile lawsuits. One wonders what the new CEO thought he was doing when leaving his cushy job in Expedia for this driving (walking) disaster.
Evaluating Uber is a major issue, while it has been set at $70, the question of the day is; is it worth that? This company makes losses, it only makes losses, no matter how big its income, they are based on incorrect algorithms. If you cut out the subsidies what will you be left with? Another issue is assets. Uber might deploy millions of drivers, but they don't own them or their cars, so what is the corporate fixed asset value, if it even has one? Ubers dash to the riderless car sector is not enough to save it, the time required to develop a full network and eco-system fro driverless cars s at least two decades out. Uber Eats and other delivery options are still too young to be effective, and the only thing that remains is to make the original purpose, the ride-share driving operation profitable.
With only 4% of all Uber drivers staying over a year! The internal mechanisms and legal framework need a full overhaul. Shutting down Uber Xchange lease without finding another solution was not clever, shutting down the high loss Xchange lease program was a good idea, but it left many drivers and potential drivers without a car solution. Uber still has a lot of reaches and is still a global leader, but it has to bolster up the driving operations I such a way that will make them generate income without subsidizing anything.
Uber IPO?
While Uber continues to strive for a major injection of capital from Softbank (Japan) offering them a 17% stake in the company, major changes in Uber's management and how it works are being put into place to make Uber a much more attractive company to invest in. Here is a list of corporate changes being made:
Travis Kalanick and other insiders will no longer have supervoting powers; all Uber shareholders will hold an equal vote based on their percentage of holdings in the company.
The board of directors will grow from 11 members to 17.
Uber is committed to placing in IPO by 2019
Until the IPO, the CEO of Uber must have the support of 66% of the board's vote.
These suggestions were agreed upon by Uber's board of executives as well as Benchmark, one of Uber's major and initial investors will remove the lawsuit from Kalanick when the Softbank deal is signed.
Uber will receive around $1billion from Softbank and Dragoneer which will set Ubers investment value around $69 billion and give these investment companies a 14% to 17% stake in Uber.
Even with all of Uber's losses and crazy roller-coaster media coverage, it is still one of the leading if not leading IPO's to be considered shortly. Uber also states that the IPO will be one of the biggest, and based on all the changes that are occurring after the new CEO's induction into the company, either Uber will reach 2019 in a much better state or it won't reach it at all.
There was only one detractor from the corporate changes, and that obviously came from the "super voters" that lost their voting edge. Shervin Pishevar, a venture capitalist, will sue Uber for loss of shareholding rights that were bought by hard work and a lot of investment. He claims there are over 200 original founding Uber employees represented in this claim.
It seems that everyone is happy but Shervin. Uber gets a quiet boardroom environment and enables new CEO Dara time to work out a corporate saving plan. Softbank and partners become a substantial stakeholder in the company; ex CEO Travis retains his position with a possible come back in the future, just like Steve Jobs has in Apple, and Goldman Sachs will make another hefty fortune by managing Ubers IPO. Let's just hope that all these changes will also turn around a constant $3 billion annual loss and bring Uber closer to a break-even point or can we hope, profit-making?
Softbank, Ola, and Uber
India is split between two ride-sharing companies, Uber and Ola, with each one holding around 50% of the market. Softbank (Japan) is invested in both, so the question that is arising is will there be a merger in India? No matter the outcome, Softbank makes money in any event.
Uber's largest Asian presence is in India after it sold its holdings and operations in China to Didi. The Indian market is worth a cool $15 billion and is growing. Ubers merger deal with Didi brought Uber $3.5 billion which is being used to fund the Indian presence.
Ola is not so far from Uber and raised around 2000 crore from investors including Softbank. Now with all of Uber's changes and with Ola putting up a fight in India, (competition is good) Softbank might try to find a way to merge the two operations to consolidate a win-win situation and monopolize the Indian market.
It doesn't matter which of the two comes out the victor in India, Softbank will just make the merger work to save either one, offering the leadership to the stronger of the two and waylaying any possibility of a major loss in either of the companies.
Lyft and Alphabet
Googles holding company Alphabet recently sealed a deal investing $1 billion in Lyft specifically for their riderless car project.This came directly after Alphabets fall-out with Uber and the resignation of Alphabets representative on Ubers board; the CFO of Waymo. Alphabets riderless driving project Waymo is also suing Uber for infringements in the riderless car technology venture they had going together.
The $1 billion will come from CapitalG, Alphabets private equity arm and comes after Waymo signed a joint partnership deal with Lyft. Unlike Uber, Lyft has always been a more conservative company with its approach to spending, and since Lyft never had the resources that Uber had, this $1 billion is about equivalent to a $10 billion injection of cash into Uber. The main difference will be how Lyft deploys the money and how it continues to increase its market share in the US and Canada. Lyft has been slowly gaining a foothold in the US, raising its hold by up to 30% market share in some cities and Lyft looks set on continuing this slow by certain progressive march while Uber still has to deal with government probes and lawsuits.
Alphabets decision
The other reason Alphabet decided to invest a further $1 billion is not lost on this report. First of all, Alphabet has already invested five hundred million dollars in Lyft. Lyft has not gone all crazy and global like Uber, but maintained a steady vision and focused on increasing its market share through a solid relationship with its drivers and passengers.
Lyft has reached 500 million rides and continuing to grow, and this solid approach and steady business model attracted automotive industry partnerships and investment. This old-school company investment is more in line with solid industry and not venture capital.
This can be seen when comparing Lyft to Uber in the self-drive development arm of projects and investors:
Automotive Partnerships
Lyft: Drive AI, Ford, GM, Jaguar, Nutonomy, and Waymo
Uber: Daimler, Volvo (Tata and Toyota as Uber investment only)
Conclusions:
There is still a big difference between the two companies, even in every state. Uber is constantly in the news and social media. Its corporate antics are still under constant debate, and the ever-colorful ex-CEO Kalanik is still being watched. Uber has branded its name, Lyft has yet to reach a brand level recognition. Lyft has a few million rides per year; Uber makes 10 million rides a day! Uber raised around $17billion and lost $b3 billion every year, while Lyft only raised $2.6 billion
Uber is a global company with access to resources far greater than Lyft. Uber also has a larger investment portfolio and marketing mix, however, intelligent usage of funds is what separates success from failure, and it doesn't matter how much money you have, if you don't spend it wisely, you become weaker than a smaller stronger positioned competitor. Stating this, it is important to note that Uber has replaced their CEO with a more conservative one, that is better equipped to deal with steady market growth. However, with all the many legal issues, bad financial model sucking the coffers dry and problems with investors, Uber has to reach the IPO intact to survive.
Lyft started out with a steady progression and a no-nonsense approach. It went into the market with full knowledge it was going to compete with Uber and any other companies that might arise. Lyft managed to enter the market with enough time between Uber and anyone else to eradicate any real threats apart from Uber. Lyft's usage of its funding and its investors and investment portfolio, as well as its corporate climate and financial model, show a steady and continuous growth in the North American market. Lyft has no intentions of going global yet, it might do so I the future, but it has enough income in the US and Canada and will, when it is ready, expand outwards.
Verdict : Uber wins in size and resources, Lyft wins on corporate direction and climate. Uber has a shaky future and must reach the IPO to survive, Lyft only needs to maintain its steady progress. Lyft wins overall since quality in this arena outweighs size.
2. Services and Categories Top of Page
Uber Car Categories
Uber's car categories are split into four distinctive types, of which one has two service levels:
UberX: standard car category
UberPOOL: rides sharing section of UberX
UberXL: larger car category than UberX
UberSelect: the first luxury level
UberSUV: Uber's SUV luxury level
UberBLack: Uber's primary luxury level
UberLUX: Ubers top line service in LA only
UberX (and UberPool)
UberX is the standard entry level to all of Uber ride-share services. UberPool is a service usually covered by UberX cars, and most of the rides are within this category. UberX costs around $0.90 per mile and $0.015 per minute.
UberXL (and UberPool)
This is Uber's large passenger-carrying service, for taking five to six passengers per ride. The income is higher since the ride rate is higher, but only large groups or families will order this option. UberXL costs around $2.00 per mile and $0.20 per minute.
UberSelect
This is Ubers first luxury level category, what they call entry-level luxury. UberSelect costs around $3.00 per mile and $0.30 per minute
UberSUV
These are Ubers full luxury SUV fleet. This service costs around $4.00 per mile and $0.45 per minute.
UberBlack
These are Uber's full luxury vehicles and cost the most to the request. UberBlack prices are similar to UberSUV, but UberBlack is a limited service, so prices a can differ greatly between cities.
UberLUX
This is Uber's top line and is only available in LA
Other Uber Services
UberEspañol : This is a Spanish speaking UberX driver.
Uber Taxi, For Hire, T, Cab : Uber lets customers use their app to hail a standard taxi service. It is available in NYC, Chicago, Seattle, and Portland
UberWAV, user access, user assist : This is the Uber wheelchair accessible service and must be chosen when requesting a ride for a customer in a wheelchair. If you have a service dog, you do not need this category.
UberPedal, UberBike : This is an UberX or XL car that has a bike rack. You pay an extra $5 fee.
UberRush : This is Ubers courier service for customers, you can order a delivery of items via the app.
UberHOP : This is similar to UberPool but is predefined by set stopping locations. You must be at the pickup area on time, and the drop-off is preset too. (A full bus service option)
Uber Car Seat : This car comes with a baby car seat, make sure you order this option when driving with a very young child.
UberLUX : This service is UberBlack but in LA only and provides Mercedes S Class, Tesla Model S, BMW 7-Series, etc.
Uber for Teens: Uber now allows teens to ride without adult accompaniment.
Uber services vary between cities, for instance, Uber in Seattle offers every service while Uber in Omaha has virtually no services.
The Lyft Categories
While there are some different Lyft services available, not all the services are available in every city.
Lyft is the first level service and provides a standard ride for up to four passengers
Lyft Plus is a vehicle that will seat up to six or more passengers and is more expensive than the basic Lyft car.
Lyft Line is the Lyft ride-share sharing system that allows for many passengers to ride in one car to a similar destination. The price per passenger is lower than Lyft, but the ride is longer. (Later)
Lyft Premier is the first level luxury ride with a four seating sedan with leather upholstery.
Lyft Lux is the top of Lyfts services, a prestigious and luxurious line of expensive cars. Usually all lack with black interiors.
Lyft Plus is Lyfts SUV and Minivan service, and it usually requested when a group of five or more passengers need a roomier ride or intend to ride together. Lyft Plus offers plenty of luggage space too, so this is considered to be a perfect airport run car for families or groups of travelers.
Lyft Line is Lyfts pool service that is only available in San Francisco and Los Angeles. Most new Line passengers don't realize that a pool ride means that the driver is going to zig-zag around like a school bus, picking up passengers along the way, but not exactly along the shortest route to the final destination. Don't upset at the driver, it's the nature of the ride, and that is why it is cheaper for you.
Lyft Premier
Premier is available in Atlanta, Baltimore, Boston, Chicago, Dallas, Denver, Las Vegas, Los Angeles, Miami, New Jersey, New York City, Orange County, Philadelphia, Phoenix, San Diego, San Francisco, Seattle, Silicon Valley, and Washington, D.C. and the cars in this service include Audi, Mercedes-Benz, Jaguar, BMW and Lincoln. Lift premier is a perfect solution for a more comfortable airport ride if you don't have too much luggage.
Lyft Lux
This is Lyfts top-level service, luxurious Black leather interiors designed to provide the ultimate driving experience in the ultimate cars on the road. Cars in this category must be at least five years old, and their drivers must be rated at 4.6 or higher. The Lyft Lux driver is essentially a limousine driver and the driving experience, while being expensive, is aimed to provide a top-level service. The driver must have either a commercial insurance policy, a TCP or livery license.
Lyft versus Uber
Both Lyft and Uber offer similar services, but they use different names that can make comparing between services hard. This is the basic comparison chart:
Lyft = UberX
Lyft Plus = UberXL
Lyft Line = Uber Pool
Lyft Premier = Uber Select
Lyft Lux = Uber Black
Conclusions
Uber offers far more services that Lyft, they both provide the same service, prices vary but at the end of the day this section is about quantity, and Uber beats Lyft hands down with their plethora of services and options. This continuous change in Ubers service basket is in direct relation to its constant battle for survival, where there are conflict and friction there is development and evolution, so Uber has a natural Darwinian system built into its corporate code that is a direct result of its ex CEO's personality.
Verdict : Uber wins.
3. Drivers and Internal Changes Top of Page
Drivers perception
A survey taken on January 2017 showed that 75.8 percent of all drivers were satisfied with Lyft and the experience of driving for Lyft. Uber's drivers only gave a 49.9 percent thumbs up, which is a major difference in any survey.
Rides per Shift
Uber drivers will still get more rides per shift than Lyft drivers, and this is based on using the two apps at the same time. Based on this detail, while there are drivers that only drive for one of the two companies, there will be a drift towards working for both to balance out ride load times.
Ubers Internal Changes
Uber is constantly changing ever since Travis stepped down as CEO of Uber. This was immediately felt with the introduction of the 180 days of the change, and the media has been watching how the Uber executive is changing the way the corporate culture is being directed.
Some Main Uber Features
The two main features that Uber brought in during 2017 are destination filter and instant pay, although Lyft was using express pay already, Uber has added tipping to their app and a new Pre-load and Re-load option for airport queue management. They also introduce an upgraded Greenlight Hub for drivers and a final destination feature in their app. Although the last one came with a price, the passenger gets to pay a pre-quoted amount that the driver is not a party too. Add to this the upgraded Uber Pool rates, the 24-hour customer support direct line and the 24/7 driver support line that is outsourced to the Philippines but offers an immediate response to drivers, and you see a strategic move by Uber to maintain and strengthen its hold on the local market.
Some Main Lyft Features
While Uber was down in mid-2017, Lyft did not attack, and CEO Zimmer stated that their approach is holistic, not focused. They will advance when advances prove to make improvements and not as an untimed attack against the competition.
While Lyft acts like the good guy, it won't put bread on their table; they should leave the nice guys in the driver seats and let the sharks manage the company.
Drivers, funnily enough, do act more competitive, after all, we are all trying to hustle more rides for more money, and that means beating the other driver to the fare. What we are seeing, is a bit of both happening to Lyft and Uber.
The Meeting Point
While Uber is improving its driver relationships, Lyft is increasing its market share; the main difference is that Lyft is on a steady roll, a long-term plan with a step by step process, unlike Ubers mad dash for world domination and now restructuring itself to recover from reckless spending and irresponsible management.
The Rate War
Both Uber and Lyft have maintained their rates. There have not been any major rate changes in either company, and the only real change has been in Uber Pool and Lyft Line Rates as well as Uber's Pre-quote rates for customers. The booking fee has gone up, but this is an Uber and Lyft income factor, nothing to do with the driver. The economics of managing these giant "taxi" companies, (well that is what they are, national taxi companies in the guise of ride-sharing.) is the same.
Lyft Driverless Cars
Both companies are heavily invested in this technological area, and both companies have multiple partners involved. Although Lyft is stronger here than Uber due to Ubers fight with Alphabet (Google), and Alphabets recent $1billion investment in Lyft as a direct response to them leaving Uber's executive board. Both companies see in the long run a driverless service that will maximise income and reduce personnel headaches.
Uber Pool and Lyft Line
Well, what can we say but Thank You? Finally, both companies saw the light and gave back drivers the income that meets these two terrible services. Drivers suffer daily with these rides and the hassle and aggravation involved caused a sharp decline in drivers accepting such rides. This, in turn, caused customers to complain, and since the driver is the face of the company, both Uber and Lyft restructured how they pay drivers, which will not change the nature of the ride but will make drivers suffer them with a smile.
Lyft Sign Up Bonuses
These also got an upgrade, and Lyft wins on this one now since it introduced a new weighted bonus that gives both the driver and the referred new driver $1.89 per ride for 60 days and until the new driver completes up to $800 of the bonus. This means that all drivers get paid bonuses. They might not get all the bonus since there are requirements for a minimum number of rides, but at least they will get a lot of it. The previous method left many drivers without a bonus and penchant hatred of ride-share driving.
Lyft Other updates
There is a lot of rumor about latest updates, and we all know that Uber and Lyft copy from each other. We expect that a lot of new features and app upgrades will be shooting out of Lyft and we also expect that Lyft will now go into full battle mode ever since Uber changed its CEO. Complacency is now being replaced with fighter instinct, and Lyft CEO Zimmer has to deal with Ubers new CEO, who has a lot of experience from Expedia.
Key Performance Indicators (KPI's)
KPI's are a process by which both Uber and Lyft provide a driving incentive that is a passenger and operational based indicator. (Key Performance Indicators) KPI's are set to allow for measurement of success. For instance, the number of complements a driver gets within a set period of time. This is a complement KPI. The number of ride requests that were canceled is a KPI. There are many KPI's, and they are all built into the system and all indirect.
Back to the customers, the apps allow passengers to leave complements and also see previous passenger's comments. The comments are graded using a language algorithm to search for good and bad indicators. Also, the more complements a driver gets, the more likely they are to find a new ride and usually their rating goes up, which is obviously a KPI.
While you might not be impressed by your comments and compliments, they are important because you can learn from the passenger's comments what you were perceived as by them and not what you think you were, as perceived by yourself.
As you can see, this is already working as a psychological tool to get you to perform self-imaging and performance criticism.
Other KPI's include how fast a driver reacts between periods1, 2 and 3. The time it takes to reach a new ride is measured and acts as a rating indicator. This is an obvious KPI. The amount of time it takes to drive your passenger to their destination safely. The use of GPS and road initiative, are also KPI's. Tips are a great KPI, they are a purely personal KPI that provides an immediate indication as to how happy the passenger was with the driver unless the passenger is a Scrooge, and then this KPI is moot.
KPI's are passenger derivatives; they are the way the company can measure how good a performance and how good a driver is in reality. By linking customer satisfaction to a rating system and allowing everyone to see the drivers rating, creates an internal competition between the driver and his own image. Customer satisfaction KPI's and ratings are psychological boosters for the ego.
Conclusions:
While Uber is changing internally, Lyft is adding change onto a healthy platform. Both seem to be going in the same direction and both copy from each other.In fact, a lot of drivers work for both companies, so it's obvious that a lot of driver feedback is based on their experiences working with both companies.
Verdict : It's a draw.
4. Technology and App Developments Top of Page
There are many changes in the technology used and the app upgrades being made by both companies; we won't discuss all of them, just raise a few issues to show how the competition between both companies serves to better the driving experience for drivers and thereby increase customer satisfaction.
Long distance Trip Notifications in Uber
Uber is testing a new map system that will evaluate long distance rides. This relates to rides that will take longer than an hour, while it doesn't give the final destination, it does let the driver know that it is a long trip. Uber is also working on destination notification, so it might be probable that we will see this feature come together with a final destination point. This new feature will be of great use to Uber drivers decision-making process.
The long-distance driver notification will also update itself constantly, show drivers how long the trip will extend while on it, which is a basic feature of google maps and Waze.
The End to Surge Maps
Warm maps are the new syntax; these maps will show where high probability rides will occur based on historical data. The use of history and the constantly updated information is a tool used in machine learning and when adapted into a GPS and map system, provide a very powerful tool for predicting hot spots and surges. Although now Uber is calling it warm spots. In the meantime, you can get these maps from software companies such as Fare Pilot or Rydar. I guess that once Uber and Lyft incorporate these into their apps, it will put third party apps out of business.
Uber Pool pay changes
One of the biggest issues with pool driving is how to deal with all the irate passengers. Many inexperienced fares will start the trip happily until they realize that the driver isn't taking a straight line to the destination, but picking up passengers along the way. Passengers can be efficient or slow, and the slow ones start the grumbling trend in the cars. Add to this all the smells and differences in opinion, as well as the starts and stops, traffic cops, irate drivers beeping and the necessity to change multiple lanes, and you end up with an irate driver too. The current payment model I so poor in comparison to a standard ride that drivers prefer to turn on destination filter and just get a ride along the way without having to deal with the hassle of pool rides.
This is still one of the biggest complaints in the industry. Drivers shy away from these and filter out pool rides, declining to take them. By restructuring the pay, drivers will reconsider all the implications of taking up pool trips and add them to their daily routines. Lyft is already paying their drivers this way, do Uber will follow suit with a better deal, at least that's my prediction since these companies like to leap-frog each other's deals.
Lyft App includes drop-off destinations
Another great headache for drivers is the fact that they don't have final destinations. Lyft has solved this issue, and now all rides come with a pick-up and drop-off destination point. Once drivers know the destinations, it will be easier for them to plan their daily routines. Although there are concerns that drivers will be choosy, and "cherry pick" rides based on destination points. This issue will be reviewed as the pilot study of this feature continues.
While Uber drivers have to deal with pre-quoted passengers, so the destination is known, but the pay is different to what the passenger agreed to pay. This is construed as being very greedy on Ubers side, since they are bypassing the actual ride costs, and not giving the driver a cut of the extra income,
Uber Destination Filter
Uber's destination filter offers six uses now instead of two. This is an important upgrade since it will enable Uber drivers to use the destination filter at the onset of a shift and on the way home, and also use it four more times during their daily workload.
Uber Drop-off Area Filter
This feature will allow Uber drivers to set an area as a destination for drop-offs, this way when they get rides; they will already be filtered for a particular destination. This might clash or complement the destination filter. We do predict that it will work great for event management since drivers will be able to target a large event as a drop-off area and pick up passengers on the way to the event.
Uber Ratings Rate
Currently Uber rates drivers every 500 rides, this is quite a static system in comparison to Lyfts rate of 100. Both have their plusses and minuses, but Uber is considering a change to 100, so maybe Lyfts system is better. Some drivers will find this a pleasing change, enabling them to change their ratings when in a dip, others might find this an issue that needs constant attention.
Conclusion: Uber and Lyft have raised the glove, and the war for drivers is on. Until they replace all the drivers with a driverless car, they are both stuck dealing with daily issues to improve their service to drivers since drivers are the face of the company. Uber will continue to provide many new apps and features during its 180 days of the change, and Lyft will most probably continue to take a larger percentage of the market due to Uber's mismanagement until now.
Verdict : Uber wins with only a slight margin since their 180 days of change put the pressure on Lyft, who responded to the new changes.
5. Driver Requirements, Benefits, and Promotions Top of Page
Driver requirements
Before applying for an Uber or Lyft driver position, applicants will have to meet certain requirements.
Basic Information
The application process takes between 5 to 10 days, this is all reliant on the applicant's preparation and providing all the necessary information, proof, and documentation. Also a completed vehicle inspection and a personal background screening clearance.
Applicants are not required to provide their car, but they have to bring a vehicle that will conform to all requirements and vehicle standards.
All applicants are required to provide proof of seven years clean history. If an applicant has a past issue then Uber and Lyft will not process the application, and you cannot be an Uber driver, so wait until seven years have passed before applying
If you want to drive in more than one State, you will need to register a car in each Stat separately.
Applicants are not limited to any driving restrictions within the State they are registered.
If an applicant wants to drive with companions, then don't apply, both companies forbids any nonpaying passenger accompanying the driver.
Here is the list of driver requirements
Age:
Applicants must be over 21 years old.
Driving experience:
All 21-year-old applicants will have three years US driving experience
Applicants over 23 years old will have at least one year's US driving experience
Proof:
Applicants must provide an in-state driving license.
Applicants will have in-state ride-share friendly auto insurance, and the driver's name will be on the registered card.
Applicants will provide an in-state registered car, even though it doesn't have to be the applicant drivers property.
New Driver Bonuses
These only apply when a new driver activates a referral code of an existing driver. The bonus is in cash and can be anywhere between $10 to $1,000! This difference is based on the urgency and saturation of a market. These bonuses are double sided, the new driver and the referring driver both enjoy equal cash benefits.
The requirements for receiving a bonus are meeting a minimum number of trips within 30 days from the moment the new applicant is accepted. Since these requirements vary from city to city and change over time, Lyft and Uber usually send an update mail to both the applicant and the referrer with the bonus details.
Lyfts new system is to spread the bonus over every ride, where the new driver as well as the referring driver both receive the bonus income. Why is this better and how much does it pay?
The new bonus pays $800, and it is paid via per-ride increments immediately. So, the more rides a driver does, the quicker they get their bonus. Also, the referring driver gets their bonus too. Another good aspect of this bonus is that it is spread over 60 days and not 30. This way the driver has much more time to enjoy learning the ropes rather than to dash off into a scrabble for bonuses immediately.
The old system might have paid more but was it better? While the old system paid more, which was paid out per rides in 30 days, which worked out at $3.50 a ride for 100 rides, but you only got paid the bonus after you completed the requirements. The new system only offers $1.89 per ride, which means you have to make 424 rides in 60 days, which is 212 rides a month.
New driver Guarantees
Some cities offer new drivers an immediate weekly guarantee; it is a Lyft and Uber promotional incentive that will pay the new drivers the difference of a guaranteed amount in the first week for driving only.
The details of this bonus are: drive for 50 hours and complete 50 rides. Accept no less than 90% of all requests.
Average Hourly Guarantees
Weekly guarantees are bonuses for existing drivers, and they promote drivers to meet certain requirements that assure them of more income. So long as the requirements are met, drivers will earn an extra amount of money as determined by the guarantee.
Drivers must maintain a 90% acceptance rate and meet the minimum guarantee requirements. The most basic requirement is that drivers need to be in driver mode for 50 minutes per hour or 84% of the time. This only means you need to keep the app on and be in acceptance mode.
Passenger Referrals
Lyft and Uber added some bonuses for referring new customers; it's a great way to gain more cash credit in the Lyft app which can be used for free or reduced riding costs.
Conclusions : Both companies view for the same drivers and customers, this is a win-win situation for all, and the verdict is that both companies draw here.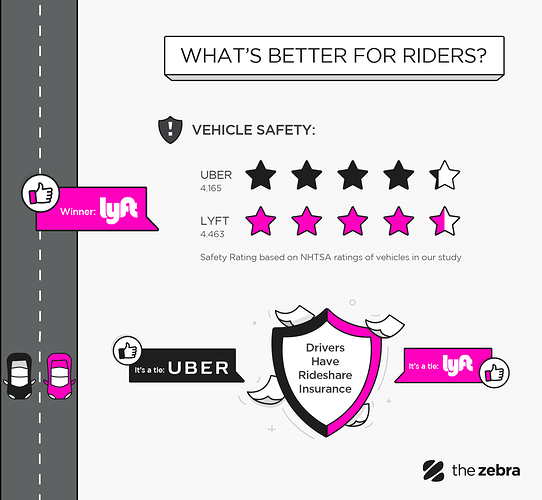 6. Customer and Driver Support Top of Page
Let's start with a definition; there are nine ways to contact Uber and Lyft, these are:
In-app support
Website help pages
Uber movement and local partner websites
E-mail
Office hours
24-hour telephone support
Critical Safety response line
Help for uber passenger
Social media
In-App Support
For any questions that are not answered by the support websites, you should use their in-app support, and it works. You will get an answer usually within one hour of posting it. Both companies do a lot of upgrading to their apps, and the support section has been updated many times, offering constant improvements. The in-app offers talkback to customers and direct calling for drivers, and there is so much more there.
However, before you start to drown both companies with online questions, you should first go to their help site and check to see if the issue you are facing hasn't been asked about before.
Website Help pages
Both companies have a comprehensive site and list many help issues. The reason it's so successful is that it is peer-reviewed and as such, the content entering is high quality and correct. Another cool feature of these pages is that they are user biased, which means it will look up your account and offer your account relevant help, which allows you to decide if you need a popular topic with answers relevant to your city or a general request.
Uber movement and local partner websites
If you prefer to focus only on your region issues, then Ubermovement.com is a wonderful starting point for a lot of useful information. For instance, amongst the city focused information you will receive what products Uber supplies in your area, the driver perks they offer too. They also include information about the airport and the hotspots where you could find many ride opportunities.
While Ubermovement.com is comprehensive, sometimes it won't cover your city, so this is when you will search for a partner website. Finding such sites can be harder since they are not as popular. These sites tend to offer Uber Customer Service e-mail addresses, local office hours and a list of cars that can be used for UberPlus/Select, etc.
E-Mail
For quite a while now, both companies don't promote e-mailing directly, since they have invested heavily in the support app and help pages.
Contacting Uber email: support@uber.com
Contacting Lyft email: support@lyft.com
Local Office Hours
Most drivers don't need to go to the local offices, but for those that have, they are usually surprised by the nice experience. All you need to do is check out where the office is, what are the opening hours, and just drop by.
Social Media
Social media is one of the least effective ways to contact either service. Sure, you can go online to their Facebook account or even LinkedIn account and even try Twitter, but don't expect to get a reply anytime soon if at all. Social Media is more of a marketing tool than a customer service or employee service tool. Although, having stated this, Uber has invested heavily in supporting their Facebook messenger application, so if you want to get good support answers you can use this way.
Uber Critical Safety Response Line: 800-353-8237
The above number is Users' s emergency line, like 911, you do not want to waste a nonemergency call on this line. Not only is it unethical it won't elicit a response and just be a waste of time for both sides.
Lyft's emergency hotline 855-865-9553 is available 24/7; this is in addition to their customer support email support@lyft.com
Lyft responds within 48 hours.
Uber 24-hour Phone Support
24-Hour phone support is part of a pilot program called 180 days of change and is only available to Uber drivers. The 24/7 phone support is available directly within the Driver app and connects drivers with a live support agent in under 2 minutes. Ubers 24-Hour Phone Support
This service is aimed at offering drivers a quick line to Uber's support center. Offering this service all over the US and Canada by the end of 2017. Uber will add French and Spanish to the service and will most probably add more languages for specific locations based on city demographics.
The reason this service warranted an upgrade was due to drivers continuous complaints about not being able to get a live service for various questions. While the service is fast, sometimes the representative is not knowledgeable in all matters raised by the driver. It is only a matter of time, but services representatives will most probably go through more extensive training since they can't just parrot out customer support phrases to drivers, drivers are not customers, they are the backbone of Uber's global initiative.
Conclusions : Both companies offer similar services and try to upgrade their service and support sites. However, since Uber introduced their driver's 24-hour support (a BPO based in the Philippines), It has taken the edge from Lyft's support for their drivers. Verdict : Uber wins by a hair.
7. Ride Prices and Incentives Top of Page
The Uber and Lyft Fare Model
Base Fare : this is the flat fee that Uber charges for each ride, it varies according to the car category.
Cost per Minute : This is what is charged for every minute from the moment the ride begins. It takes into account traffic and other circumstances that can cause a ride to take longer than expected.
Cost per Mile : This is what they charge for every mile drive. Drivers usually take the fastest route, but when traffic or other instructions are foreseen, they will choose a different route. Both companies charge for the shortest distance in a pre-quote fare.
Booking Fee : This is an extra fee that they charge to cover operational costs.
Surge Price : This is an additional multiplier that is added when there is a lot of strain in the system, basically a supply and demand function. So, if you are in a surge area, your overall fee can multiply by up to x3.
Tipping : This is purely optional, while there are tipping features in the apps, the passenger can give the driver cash at their discretion.
The Fare is calculated like this:
Base Fare + ((Cost per minute x time of the ride) + (cost per mile x ride distance) x surge boost multiplier) + booking fee = Passengers Ride Fare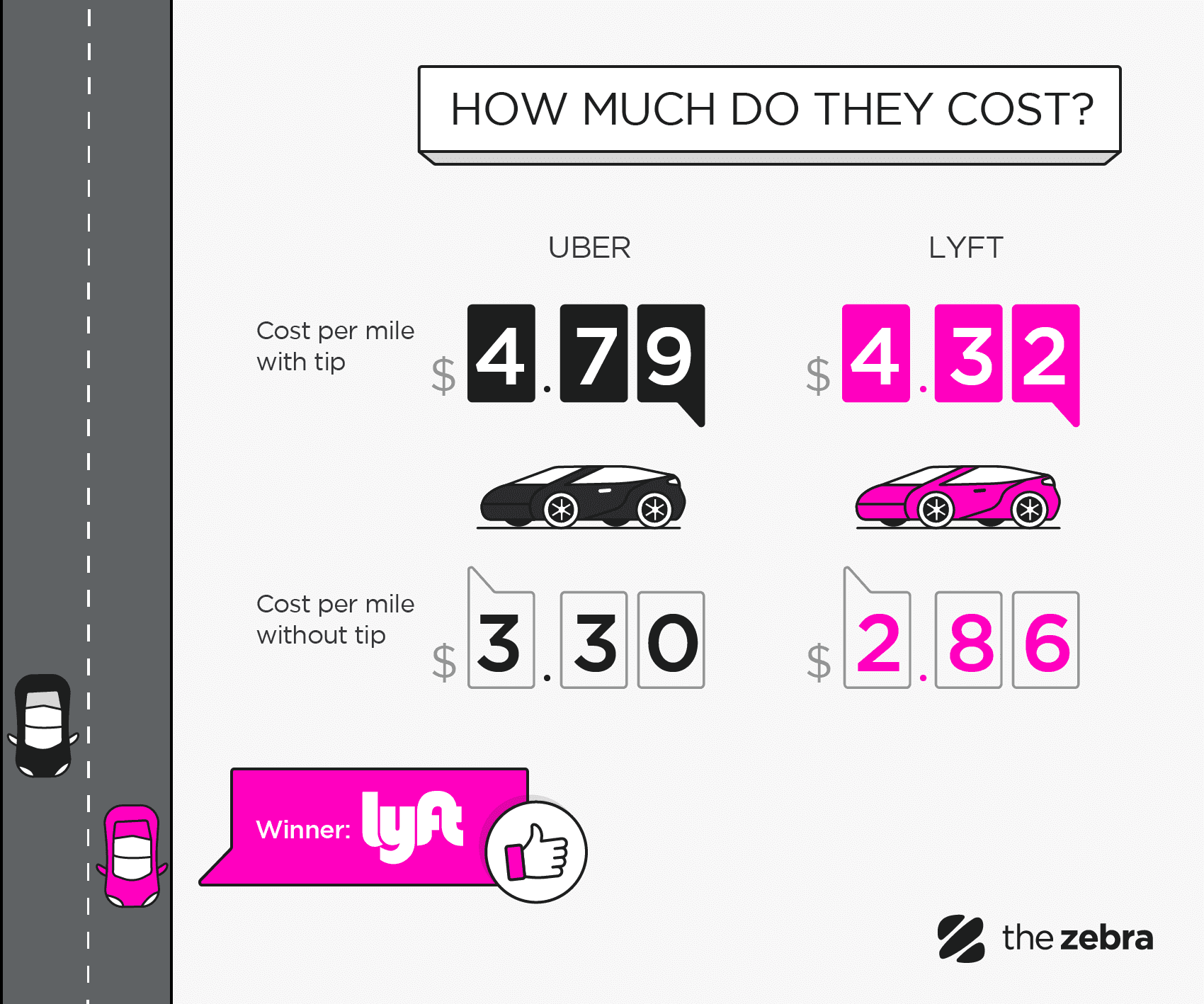 Minimum Fare
There is a minimum fare rate that is set to assure a certain level of income for the Uber driver. This varies per city and is based on the above calculation being no lower than the minimum fee. If the total is lower, then you will be charged the minimum price.
Up Front Fare and Quote
Uber has developed an upfront fare estimator that calculates how much a ride will cost based on all the above parameters stored in its memory. This historical data takes into account all the variables and the time the passenger makes the call adds into the equation surge and traffic factors. So a basic calculation will always be used as the baseline, most probably the baseline will increase due to traffic and surge fluctuations.
Lyft Upfront Pricing
During December 2016 Lyft added this feature to enable customers a review of the estimated trip cost.
If you don't have the app or are on a computer, then go-to the Lyft cities page and find the city you want to estimate the fare, enter your pickup and drop off location and press the "get estimate" button.
The upfront estimator takes into account the pickup and destination, the expected route time and distance based on a GPS map system (similar to Google Maps and Waze). It also uses historical data to get a better estimate. While the estimate is relatively accurate, the actual price may differ depending on during ride traffic and obstructions that are not calculated into the estimate.
Conclusions
Both constantly compete for customers by reducing fares, raising incentives and promoting bonuses. This is a sector that is in constant and even daily flux and cannot be decided by looking at the one-time point, but by overall yearly performance. Verdict : A draw.
8. Ride Sharing for Businesses Top of Page
Both companies support business service models; Uber's is through an UberBlack and UberXL service, one for transporting executives the other for teams and UberPool services. Lyft operates Lyft Premier and Line for the same services that Uber offers. There are no real differences between these two services, and they constantly compete for the top-level executive or the group drives. Lyft does operate a shuttle service in some areas, but that is not a focused business service, although it could be adapted to one. The only difference felt on the road were the extra efforts that Uber Black drivers made with their customers, such as opening doors and handling luggage, although Lyft has improved their performance in this area recently.
Conclusions : Both provide basic services for businesses. Verdict : A draw.
There were and still are vast differences in the corporate culture of both companies. Corporate culture is a direct result of leadership styles and policies.
Uber's corporate culture was always highly competitive and unethical as well as reckless with a disregard for authority and government. This trickled down into the office environment and created a standard dog-eat-dog culture. Drivers were less affected, but also competed for income which is a natural by-product of supply and demand in low saturation areas, and was only slightly tainted by the corporate culture.
Lyft's corporate culture has always been a fun loving, family environment, nurturing change through interactive development. Competition is also at play here but is aimed at competing with Uber and not with itself.
The recent changes in Uber have started to trickle down into the various sections of the company, but the full effect won't be felt until Uber stands on solid ground, which could take a while. Also, Travis Kalanick is still on the board, so his shadow still looms over the company.
Conclusions : While competition is great for evolution it is not to be exaggerated, so Lyft is a winner hand down here of in-house corporate culture, Uber and Lyft are similar when taking a ride. Verdict : Lyft wins because their in-house culture is better.
10. What the Future Holds Top of Page
Uber's budget is enormous, even with all their legal battles and unsafe future, they still have more than enough resources and investors as well as global reach to develop a larger array of technologies directly related to as well as independent of their main service section. Having stated this, certain investment areas are fine for fantasy and well worth investing the right amount, what is termed theoretical sciences. The applicable sciences and development are where the immediate venture gamble is at, and it is in these arena's that Uber has the extra financial advantage.
Lyft's more conservative budget, although now supported by Alphabet, which is no mean undertaking, gives them the confidence to continue their stepwise progression. A solid investment portfolio and controlled venture expenditure propose that Lyft might have more technologies reach the market quicker.
The question is, does size of resources matter here, and the answer is yes. Uber's reach is seven times that of Lyfts, and unless Lyft employs all the worlds geniuses, then Uber will always outreach Lyft's chances of developing new technologies just based on their reach, scope, and audacity.
Both are continuing their drive for the autonomous car, Uber was looking into flying cars, and the reality is that no one knows what both are invested in since this is the core of successful competition.
Conclusions : Uber beats Lyft hands down is size and scope. Lyft might win on how the money is managed and their investor Alphabet is no weak partner, although there are plenty of very strong companies supporting both sides. Verdict : Uber wins in potential only due to the resources available.
Summing Up
The beauty of competition is that it creates change and is always consumer-centric. At the end of the day the customer will always enjoy the fruits of competition and the stronger the competition, the greater the prizes to be had.
We only compared Uber and Lyft since they are the only two main competitors in North America, all the other services while being there, do not pose much of a threat, and there will always be more competition and more customers for everyone. Uber and Lyft set the market pace, Uber is a global brand, and Lyft is an American brand. Until Uber finds its secure holding, Lyft will continue to be a viable threat for the overall ranking, especially f Uber goes under due to all its legal and tax issues. When this happens, either Lyft will buy out most of the operations globally, let Uber crumble in North America. This will allow Lyft to take over all the operations. Or, Uber might be chopped up and sold in chunks. Whatever happens, Lyft will emerge as the new leader. If, however, Uber survives the next two years, reaches an IPO and succeeds in it, then Uber will retain its market holding, strengthen its position and be the new "Google" of ride-sharing.
Bottom Line : Uber wins by a hairbreadth , only due to its size and scope. Lyft's services are as good as Uber's, but their scope is limited to North America, and only around 30% of the market is theirs. If we look at profitability, then Lyft wins, but Lyft is also losing money, the difference between the two companies is not in how much profit they are making but in how much less loss they are generating and that is why Lyft wins, but only because it's a smaller company.