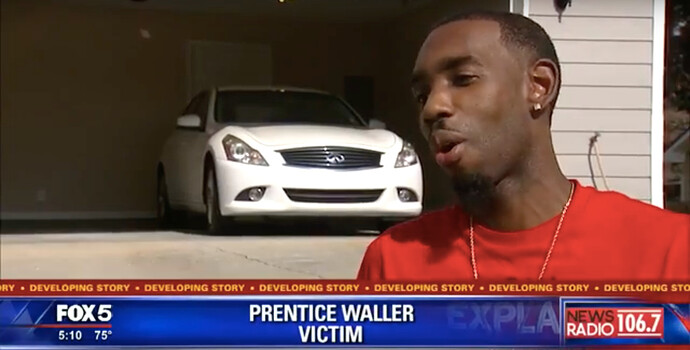 Prentice Waller is a Lyft rideshare driver. He has been driving for Lyft for three years. Up until early November, he had not experienced any issues driving around Atlanta, his current home state.
This changed on Sunday night when he was in the Buckhead area of Atlanta. He was on the job but had no passengers so he was stationary and on his phone as most rideshare drivers would be, waiting for his next fare.
Waller describes what happens next.
"I was sitting there on my phone like I always do. Somebody knocks on the window hard with some metal. I think it's police telling me to move next thing I know it's a gun."
Waller had been parked just around the corner and a mere 100 yards away from the Zone Two precinct of the Atlanta Police Department.
It was not the police but a robber. The robber then demanded Waller's wallet and cellphone. Waller complied and gave them both up. The robber then told Waller to "get out of here." Waller thought he was being told to get out of the car so he proceeded to open his door.
He had misunderstood the robber. The robber wanted him to leave. Once he understood this Waller put the car in drive and hightailed it out of there.
Walker is sharing this incident so that other drivers don't find themselves in the same predicament. His advice to fellow rideshare drivers and all drivers in general is that they should stay away from side streets as much as possible and they should also stick to well-lit areas where people are around.
That is great advice. We would add that you should ways be alert no matter where you are. Some robbers are brazen and would not let the fact that a police station is around the corner deter them from the mission.
Waller says this unfortunate incident will not stop him from driving. However, he will most definitely keep his guard up at all times going forward.
The robber is yet to be identified and caught, says the Atlanta police.