The driver-less car is around the corner, Lyft is already testing its autonomous vehicle project (AV) in Boston's city seaport district. Lyft is researching their AV program with NuTonomy. NuTonomy is an MIT venture company that has been developing AV's since 2013.
Lyft has received a lot of support in the past, as well as very recently. GM initially invested $500 million with Lyft to develop the AV, and then there was a rift between them this year. Lyft quickly solved that issue when Alphabet's Waymo took Uber to court and sought out a new rideshare company to continue their AV development, which was Lyft. Alphabet recently invested $1 billion in Lyft, and most of it is going to the AV program.
NuTonomy posted on their website:
In which they stated: "Our partnership with Lyft has two goals. First, we want to let members of the public experience driver-less vehicles firsthand, so they can better understand the impact this new technology will have on their lives. Second, based on feedback from pilot participants, NuTonomy's engineers will adapt and improve our system, so that we can deliver an autonomous transportation experience that is extremely safe, efficient, and comfortable."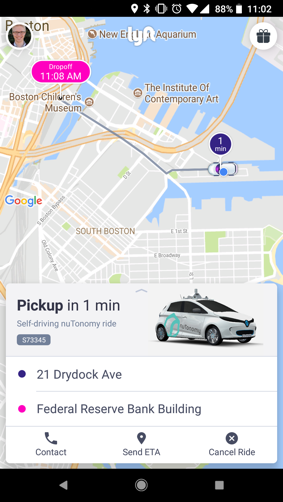 Neither Lyft or NuTonomy stated how many driver-less cars would be involved in the initial phase of their test. However riders can be assured that the cars come with a backup driver in case of technical issues during the ride. The test is expected to expand gradually from neighborhood to neighborhood, and then with State authorization, from city to city. The concept is to start taking over ridesharing territories with the new driving solution.
The City of Boston approved three AV companies so far and are backing these advances with some trepidation, as their site states that AV's can "displace an important workforce and encourage both sprawl and congestion." Boston will only allow the AV test cars to operate during daylight working hours and will only allow expansion into other areas of the city when companies can show they have met their KPI's.
This new phase in Lyft's AV program marks an important step in their continuous competition with Uber since Uber has AV projects running in Pittsburgh and Phoenix, where all cars come with a backup driver sitting behind the wheel. Another first for Uber is their partnership with Volvo, announcing that they will be introducing up to 24,000 Volvo SUV AV's into the US market by 2019. A major announcement and step in the changing face of ridesharing in general and driving in particular.
Lyft just recently received approval from The California Department of Motor Vehicles (DMV) to start testing on California state public roads. Lyft's image as the good guy's compared to Uber's bad guy routine that has created a strong anti-Uber movement is now going to be challenged by Lyft's driver-less car. After all, if Lyft goes driver-less, then a lot of Lyft drivers will be jobless.
To counter Uber, Lyft has collaborated with five car manufacturers including Tata's Jaguar, Ford, Alphabet's Waymo, GM (Which is invested in Lyft but has issues with them) and Drive.AI.
The AV scene is in continuous fluctuation with changing loyalties, billions of dollars in investments being slapped out on a quarterly basis and some major global backers showing their desire to be major contenders, includes Alphabet, SoftBank, GM, Ford, Volvo, and Tata.
While Lyft is testing in Boston and California, GM has started to build a concept that will compete with both Lyft and Uber and are developing their prototypes using electric cars, Chevy Bolts that are being designed and assembled at Cruise Automation a GM subsidiary. GM stated that their cars would be ready for the market by 2019. GM is also on the streets in the US with their AV, in San Francisco, California, and as with their competitors are currently running their test vehicles with a backup driver.
GM President Dan Ammann stated, "We think this represents one of the biggest business opportunities of all time since the creation of the Internet." It is definitely a ground shaker for Uber and Lyft when considering the global reach and brand that GM represents. It also shows us a glimpse of the future, where car manufacturers will compete for AV ridesharing services since you don't need gig app companies as intermediaries if you already manufacture and own AV cars. This means that the future holds a global AV ridesharing war between rival car manufacturers which could dampen investor relations for Uber and Lyft, once investors realize the meaning of GM's statement.
GM is also hinting to Ford that GM's target is to reach the roads 2 years ahead of Ford. When we factor in Volvo that is working with Uber, Waymo that is Alphabet and what was once Lyft and now GM alone, it is obvious that the harder initiative is creating the AV and not the rideshare app. With global giants that have over 100 years of experience in manufacturing, sales, customer services and maintains large R&D units, does this new statement by GM suggest the eventual end of Uber and Lyft within the next 2 to 4 years?
Ammann stated that once GM comes online with its AV rideshare service customers will no longer have to deal with complex and hostile environments where drivers can be problematic and even dangerous. The AV will no longer complain about music and climate, the customer will control the inside environment of the car, and the AV will control the safety of the ride. Their service will also be cheaper then Lyft or Uber. This is actually obvious since GM will control the sales price and maintenance costs of its AV's in the group as well as use all their global sites and sales offices as ridesharing points of operation and as such, be able to out-service any competition other than other car manufacturers.