A dream comes true to Uber in Canada, a small town, Innisfil with a population of 36,000 is considering replacing its public transport systems with a subsidized Uber alternative. Innisfil is just south of Barrie Ontario, and the relationship between the town and Uber is evolving into the next probable step of rideshare transportation, decentralizing public transport and saving cities millions in budget.
The city of Innisfil has decided to subsidize Uber rides instead of integrating fixed-route buses. Customers will pay a flat fee of $3 or $5 (Canadian$) for select routes. Such lines will include starting locations outside the Innisfil Town Hall or the Barrie South GO Station. In the instance where customers want another destination, so long as they use the UberPOOL service, will receive a $5 discount.
Innisfil Mayor Gord Wauchope stated that the new collaboration is saving his city hundreds of thousands of dollars a year, from operating their own public transport system to supporting the system with ancillary services such as garages, mechanics and routine maintenance as well as gas, wages and other operational costs.
Wauchope told the press that "For us, it's a great way to operate a transit system here at the present time. It would have been quite expensive using the regular transit system."
When comparing Innisfil to a US area such as Mississauga, it has the same land size but the only a 20th of the population. The cost of maintaining a public transport solution would be around $610,000 a year and only been useful to those residents that live within a reasonable walking distance to the public bus stops. The Uber solution will cost them around $250,000 a year and will cover every resident in the area.
The current partnership is so lucrative to both sides that Uber expanded its rides with two more flat-rate lines during March.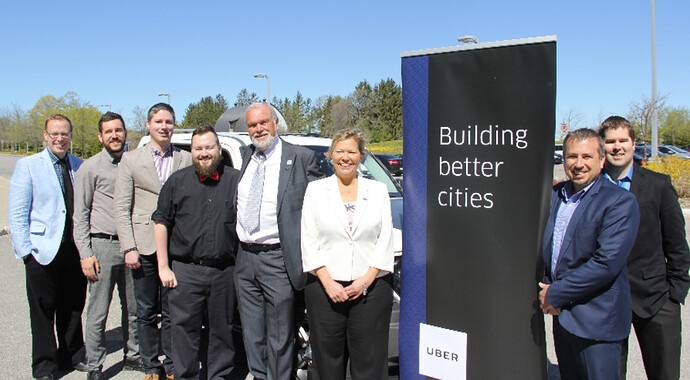 This is not the only Uber public transport solution in place, Uber has similar collaborative partnerships in place in Boston, Ma., and Pinellas County, Fl. The difference between the two other sites and the one in Canada is that the two US sits are supplementary lines to Public Transport, while the one in Innisfil replaces the public transport system completely.
Uber's PA Leas in Canada, Xavier Van Chau told local press that "We're proud of the partnership. We're looking at more and more ways we can partner for public transit in Canada. Fundamentally we believe that public transit and ride-sharing are complementary, that together we can get people out of their personal cars."
Calgary is another city in Canada that is looking into the concept of replacing their public transport system completely. Calgary Councilor Shane Keating told the press that "We've got communities that are just developing. The residential base there probably isn't quite (dense enough for conventional public transportation), yet they need some sort of transit service."
Keating is backing the Uber collaboration initiative and believes that Uber is providing a perfect solution to public transportation systems. In fact, when you look at the employment opportunities for local residents, by using them as independent contractors working for a city subsidize system, they are invariably providing a comprehensive solution that is win-win to both partners. As Keating stated, "We should be saving money by not running a bus on a continual basis."
Uber's expedition into replacement public transport systems in Canada is also being viewed by a large metropolitan area, the City of Toronto is currently performing a pilot with Uber, which was initiated in 2017.
Naturally, not everyone is happy with this situation, and there are always those back-seat nay Sayers that have to warn us of everything from extinction from global warming to extinction due to the sun imploding in a few billion years. One such detractor is Yonah Freemark, a doctoral student from MIT that specializes in transit systems. According to Freemark, there are many risks involved when integrating a rideshare platform into a public transportation system. His main concerns are with the operator's financial viability, not with the operational side but with the sustainable side. He claims that Uber is "being propped up by very significant venture capital investments. We don't know how long the low prices that are provided by Uber and Lyft and other ride-hailing companies will last. I would say this is concerning for cities that are relying on them to provide relatively cheap trips, whether customers are paying for it or whether the town is paying for it."
Freemark's claims do merit further investigation since we all know that the current prices are subsidized by Uber and that both Uber and Lyft only introduced low prices to boost expansion in the face of taxi services. While this approach worked, and most taxi companies have gone extinct, the question remains, how long with rideshare companies maintain subsidized rides before they start to change the prices to reflect a normal profitable business model.
The other concern is redefining public transport, where buses are used to reduce the number of private cars on the road, the use of Uber and Lyft as a solution will increase the number of cars by reducing the number of buses, which will lead to congestion and traffic.
Not everyone is happy worth replacing public transport with private transport on a public basis. So, everyone is actually looking at these pilot cases in Canada and the US to see if they warrant any further integration or should be abandoned.
My take: Uberizing pubic transport will be perfect for rural places such as Innisfil, where the residents are balanced over a large area. The extra number of cars on the roads will be eligible when considering the coverage that they provide. In larger cities or inner-city services, I personally don't think Uber can replace a good public transport system such as light-rail, undergrounds, and buses. This is due to the fact that operational costs also provide operational excellence, something that has to be accounted for on every line. If you don't have one central quality control unit managing the lines on a daily basis, you will lose rides through driver illness and other such reasons, where as in a public system replacement are found immediately, in a private one that would be an issue.