There is a lot to be said against Kalanick, especially when you are an Uber driver. His legacy has led Uber to both extreme heights of success as well as extreme depths of litigation and public hate. Ever since Kalanick was replaced by Dara Khosrowshahi, Uber has undergone some substantial changes in leadership as well as in the public opinion and perception of how Uber is now being directed.
One of the recent issues that have come to light, and is currently on the executive drawing board is the idea of an incentive bonus plan to benefit good drivers. What is a good driver, a good driver is someone that is conscientious of their passengers and of their vehicle. Someone that cares for both and provides a comprehensive service.
The new scheme being discussed outlines the following concepts:
Passengers may choose drivers based on the following attributes:
Drivers with higher ratings
Drivers with added benefits (Video Entertainment, Mobile device chargers, etc.)
Drivers with specific car types within a category
Drivers with a certain number of rides under their belt
The incentive is added to those drivers when the passenger has to pay a higher premium fee for this service. This means that excellent drivers will receive more rides as well as get paid better.
The outcome of this concept?
Passengers will be able to choose their driver based on personal preferences.
Uber will enjoy a better name due to a better service
Drivers will earn more per ride, as well as get more rides
The overall service will improve as drivers start to compete for a higher standing and offering more in-ride attractions.
CEO Dara Khosrowshahi stated that the plans are still on the drawing board and being reviewed from every angle. Adding filter features is simple, but the outcome is not. BY favoring better drivers over others, you could alienate many drivers that provide services that are usually rated low only due to the customer type. For instance, Pool rides and late night drunk riders. It might also separate those drivers with more cash to invest in a better car per category than those that cannot afford to buy more than a used car.
One of the sources for filtering rides comes from the app Uzurv, which offered passengers that ability to choose Uber and Lyft drivers based on a large number of attributes.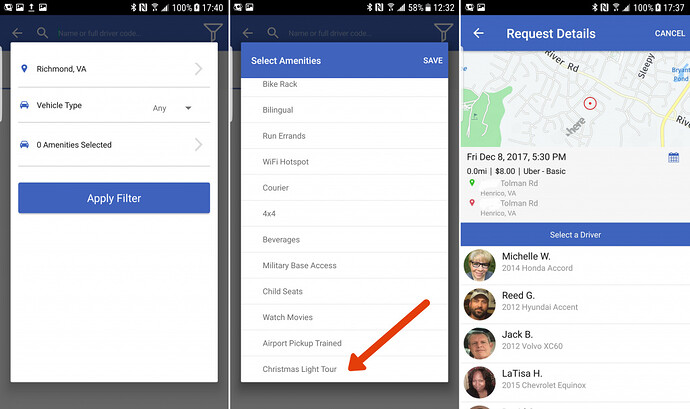 Some of the amenities can include a bike rack, a child seat (big issue), movies during rides WIFI hotspots and more. You get to see the drivers photo and the car model and make their drive. So, if you want a Hyundai Accent driven by a middle-aged woman, and has beverages during the ride, go ahead.
Uber will take this one step further, and probably offer rider reviews for viewing the difference between many drivers that fit the bill and have a 4.9 to a 5-star rating.
Win-Win-Win
This is a triple win situation, where the passenger wins, the driver wins, and Uber wins. Its something so simple and so basic you wonder why they didn't think of this before. It also sorts out the "bad driver" syndrome, where bad drivers will be filtered out completely. Maybe, after a year or so, only serious drivers with commitment and motivation will remain driving for Uber.
The one Loss
It is possible that riders will start to focus on a small number of drivers, that will eventually make driving for Uber unrealistic for many drivers not seeking a full-time occupation. Uber started out as a rideshare concept from the "carpooling" idea and blossomed into what is now known as ridesharing. This filter could lead Uber straight into its enemies hands, and turn them into a glorified taxi service that only employs the most professional of drivers.
In this case scenario, other rideshare companies can rise above Uber by maintaining a lax system (as is now), and not enable passengers access to choose. Which is actually what happens with taxi's, you hail them and whatever turns up you take. How many times have we argued over a crappy taxi ready for the heap, and been grateful to get in and go?