GrubHub is the online and mobile food-ordering company that connects hungry people with restaurants that want to feed them. One of their key demographics is college students.
Snapchat is the photo and video messaging mobile app that is loved for the fact that those crazy ten second videos do not go on to live on for eternity on the internet, where they can ruin your chances of becoming the next president. Who does this appeal to–college students.
GrubHub and Snapchat, therefore, are a match made in heaven.
Understandably then, Grubhub was one of the first companies to jump on to the SnapChat train. Their eagerness and early adopter status have been well rewarded as they have managed to grow and scale their user base consistently.
The main function of Snapchat for Grubhub is to build brand awareness. This is done by creating great varied content. The goal of the content is not to simply get clicks but to encourage interaction. Said Mallorie Rosenbluth, senior manager and head of social media at GrubHub, " We don' t just want to see views. We want to see that someone is sharing something and engaging with it."
Some examples of how GrubHub is creating interaction are as follows.
In 2014, Grubhub held 'SnapHunt,' a week-long scavenger hunt. Each day of the hunt saw Snapchat users get a shot at winning $50 in free takeout in return for posting a video on a new daily challenge.
GrubHub has also used Snapchat for recruitment. In October 2014 they were in search of a summer intern. They advertised via Snapchat using 6 doodle images. Potential interns were told to show off their "Snapchat Skillz."
On November 6th, GrubHub launched " Foods Here." " Foods Here_"_ is described as an interactive ad modeled after retro, arcade-style video games of the good old days. (depending on who you ask)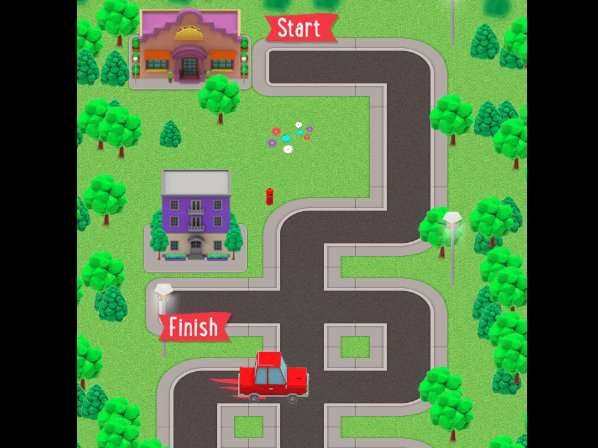 _"Food's Here" i_s a puzzle game. It is located in the Stories section of the app.The users have to help the Grubhub driver get to their customer. The road is made up of puzzle pieces. To arrange the puzzle pieces, the users simply tap the screen. There are three levels of the game, and each level has obstacles in the road that must be avoided.
Users who successfully complete all three levels will be rewarded with an offer of $10 off their first order of $15 or more when they download GrubHub app.
College students are Grubhubs' key demographic but to ensure that others don't feel left out of this latest game, there are two versions of it. One version targets college students and is, therefore, college-themed. The second version is designed to appeal to a more general audience.
Grubhub partnered with TreSensa, an advertisement company to create the game. The ad is scheduled to run for thirty days.