Yes, you heard that right. Uber announced today that Uber drivers would be eligible to stay ahead of the queue if they end up getting a short trip from the airport. I'm not sure if Uber is implementing this feature throughout the country, but I can confirm it for Seattle drivers. Also, the queue skip feature is only available to uberX, uberXL, or uberPOOL drivers.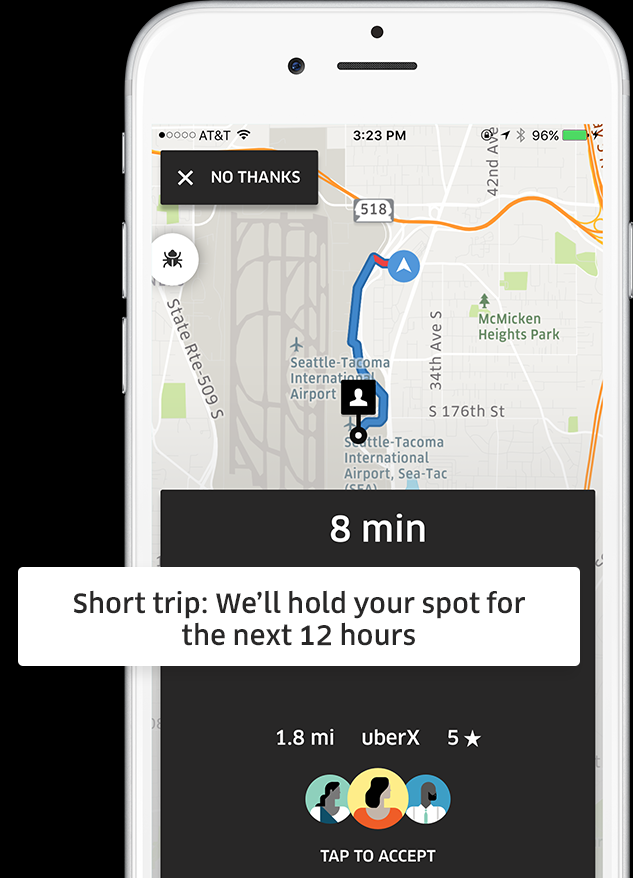 While Uber did not specify what a "short trip" means, it seems like drivers will get a notification before or after the trip for short trip, as seen in the screenshot provided above.
Here's the email from Uber:
#Skip the queue after a short airport trip

Bikramjit, have you ever waited at the airport only to get a trip that didn't pay off? We know it can be frustrating, so we're improving the airport experience to help you get the most out of your time.
Now if you get a short-distance uberX, uberXL, or POOL trip* from SEA, we'll hold your spot in the queue for 12 hours, so that you can return to the same airport and get another trip quickly. If a trip is eligible for short trip protection, we'll let you know in the app before you accept the trip.
Hang on; there are some conditions to be eligible for the queue jump.
You must be waiting in an airport queue for at least 15 minutes. Short trip protection is valid for 12 hours at the same airport and remains in place even if you go offline or do other trips before returning to the airport's queue. Airport short trip protection mile radius is subject to change.
Uber used to have the "Queue Skip" last year but abruptly stopped it. It was different from one that Uber just announced. In the previous version, drivers were eligible to skip the queue only if they could return to the airport zone within half an hour time. At the time Uber stated that drivers were complaining, and did not understand how the feature works. Drivers were right to be frustrated. Previously, Uber never explained to the driver when would the time start; there was no timer on the app to show how much is left to get back either.
The new "Queue Skip" feature is simple and easy to understand. Drivers don't have to fret over the time anymore. Twelve hours is more than enough time to decide if the driver wants to head back or not. I must say, Uber is making "positive" changes to impress and retain drivers and it might work.
What do you think about Uber's new "Queue Skip" feature?