This year CES was set in Las Vegas, and over 3,900 exhibitors provided a grand spectacle to 184,000 attendees. Uber and Lyft drivers vied for over 11,500 rides from Las Vegas McCarran International Airport on the 8th of January, add to that number, 18,400 taxi rides, and you have a whopping 29,900 rides in one day. Some of the transport methods used included autonomous vehicles (AV's), where a safety driver is present to deal with AV software issues.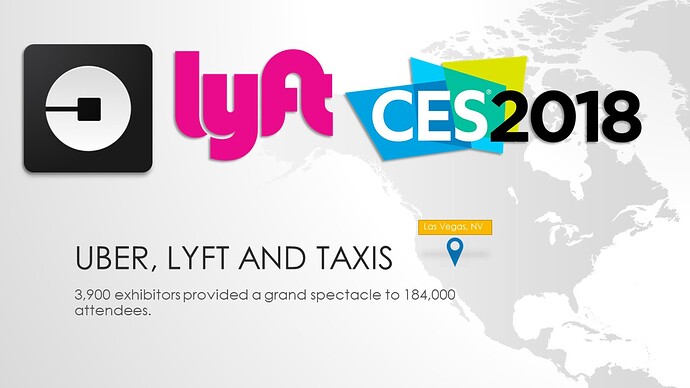 One of the interesting notes made was from John Zimmer, Lyft's President, who told audiences that only 0.5% of all US mileage was covered by rideshare, which means that there is a lot of growth yet to be made in this sector.
The real war was in the streets of Las Vegas where the battle was not just for passengers, but the battle for public attention. Uber, Lyft and Taxi's all competed for attention. Driving discussion was not restricted to safety rules, but to open battle for beating the competition in every instance. No more being friendly, giving way or being present.
Apart from the array of displays, lights, clothing, and signage, taxi drivers were explaining to customers how unprofessional Uber and Lyft drivers were, as well as the issue of insurance coverage. All this might be of interest to the passenger, except for one important fact, a taxi ride would cost $16.40 while an UberX ride for the same pickup and drop off would cost $7.25. This is where the war was ultimately won.