A recent report by BP's chief economist Spencer Dale stated that the inception of AV's would cut ride share company fares by at least 50%. This is based on a performance rating model that calculates the operational overheads as well as the impact of EV's on the transportation industries costs.
To put it in simple terms, autonomous vehicles (AV's) will replace the need for a driver. This will reduce the cost of a driving fee. AV's will still incur a maintenance cost, but that is already factored into the equation. Add to this the price of an AV, which will be lower than a human driven car due to the technology installed. While new technology might be expensive, the moment it becomes a mainstream system, its manufacturing costs become fully automated and low. The human factor is not the only reduction in expense, the transfer from fossil fuels to electricity (EV) will further reduce the cost of operations as well as of maintenance.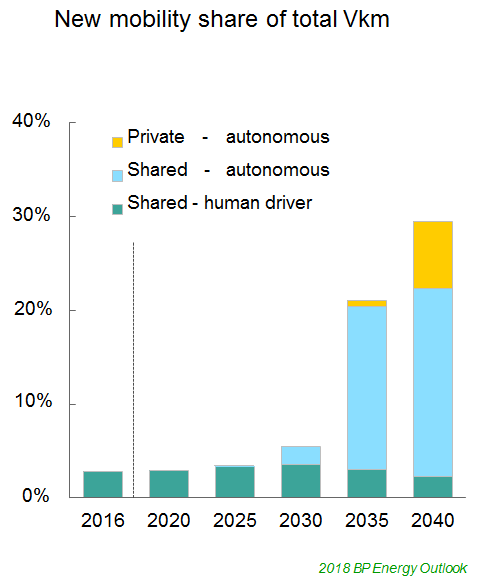 Based on these findings, Dale expects that by 2030, there will be a significant change, he said: "As a result of this, what we expect to see in the 2030s is a huge surge in the number of kilometers traveled by fully autonomous mobility-service cars."
While Uber is heavily invested in AV's and has a deal going on with Volvo for 24,000 AV's to be delivered to the US between 2019 and 2021, other non-gig economies are starting to compete for that market. Waymo recently received a license as a TNC in Texas, which means that they intend to start up their own AV service once they become fully operational.
Once gig economies and other services take over the scene, AV's will become the new mode of transportation. As Uber's head of automotive alliances Jeff Miller said: "It only becomes a commercial business when you can remove that vehicle operator from the equation."
Dale went on to state in the BP group's 2018 Energy Outlook report that by 2040, 15% of all cars will be electric, but this will contribute to 30% of all the kilometers being driven. Dale stated "The low running cost of electric cars relative to conventional international combustion engine cars means the vast majority of this fully autonomous shared mobility will be electric. As a result of which, that's what increasing this intensity [in passenger kilometers]."
If you were worried that the transfer of technology would impact BP, rest assured that this is not a major concern, Dale stated in the report that "The impact on oil demand is pretty small, it's about 2 million barrels a day. (2% of the global use per day) One reason why it's so small is that we think quite a significant part of the impact of car manufacturers selling more EVs will be offset by those car manufacturers investing less in other types of efficiency in order to achieve their vehicle efficiency standards."