It is a common belief that we want to own a car, as well as a house. Since the housing issue has nothing to do with rideshare driving or the impact it has on society, I will concentrate on car ownership.
Let's start out with some questions and facts:
Living in a city is not like living in the suburbs or in the rural USA.
Commuting to work takes up to two hours each way and eight to ten hours of the parked car if you drive with your own vehicle.
Accessing a vehicle to drive at any time is great, but how many times a day do you really use your car?
Weekends and holidays require freedom of movement, but is owning a car for just these times worth the expense?
An "average" car costs around $20K, and on top of that you pay insurance, gas, and maintenance and your car depreciate over 7 years. Which means it's a bad investment for making money, but maybe a good one for saving driving time, or is it?
Just these five questions are enough to raise the issue of whether owning more than one vehicle is a viable expense for everyone. In fact, it isn't, and most people would find that by not owning two cars they would be able to save money, restrict their time to traveling based on need and plan the use of vehicles for holidays (rent versus own).
People that live in cities don't even need a car for their daily use; they are close to everything and apart from driving out of the city, don't need a car even to reach the airport. So, for leaving the city once a month, do you really need to own a car?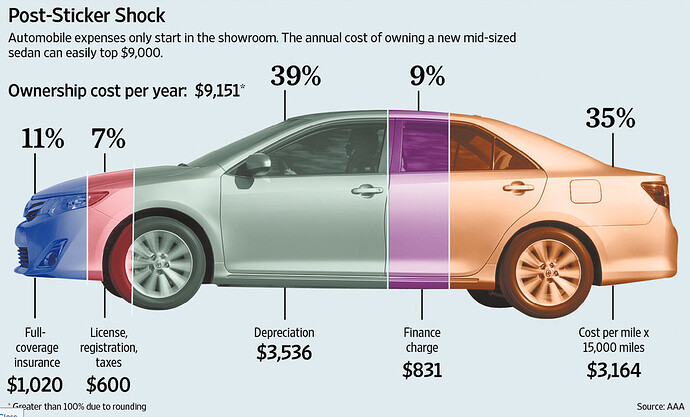 Rideshare has changed how we view the ownership of a car. With some people that are willing to drive for a living to supplement their incomes, combined with other transport alternatives, car ownership might be a fading expense.
Take for instance Uber's CEO for Latin America, George Gordon, who claims that rideshare has changed the face of car ownership, stating "This is one of the changes this technology brings when referring to a 9% decrease in car ownership based on sales figures, where car owners prefer to forgo replacing their old car with a new one in favor of riding with Uber and Lyft.
This does not mean that families will forgo the ownership of cars, what will happen is that rather then own two cars or more, families will start to downgrade, owning only one car for family usage such as driving the kids around in the afternoon and planning that family trip to the seaside or visiting family over the holidays.
One proponent of downsizing car ownership is website "The College Investor "owner Robert Farrington, who states that "Purchasing a car would cost several thousand dollars and getting a loan would have a monthly payment of at least $300 or more, especially including insurance, so ride sharing looked like it could be a good option. The worst case was, if ride sharing didn't work, I would just buy a car anyway."
Farrington proved that he spends between $200 and $300 a month using Uber and LIGHTSWITCH is much cheaper than owning a car, even a used one. This would also work for families living in the suburbs if they have access to rideshare companies. For the rural USA, it would be a problem due to the distance between home and town and the lack of rideshare accessibility.
However, the majority of the population lives in cities, and in fact, 70% of the population live within 1 day's drive of Indianapolis, which goes to show how much of an impact rideshare driving can have on the economy.
Driving is Expensive
Driving is not about owning a car, it's about owning a driving license and having insurance, and the number of people that own a license has decreased significantly in the last 30 years. In 1983 around 92% of the population held a driving license, today only around 77% own one. This is a 15% decrease, which is in absolute numbers the equivalent of around 47 million people, or 47 million fewer cars being bought.
Other Statistics
The so-called gig economy is showing signs of impacting the decision-making process for car ownership by providing alternative sources to cars, such as Zipcar that allows you to rent a car for an hour. According to a study of the Zipcar customers, 43% owned a car before using Zipcar, 19% stopped owning one after using Zipcar.
Gig economies that enable people to gain access to a ride when it is needed without the hassle of owning, maintaining, driving and parking a car have opened up a new source of revenue as well as affected another. Automakers will feel the heat of lowered sales, and perhaps this explains why they are starting to compete with rideshare companies as well as develop AV technologies in-house.
A recent study done by the University of California, Berkeley shows that around 9 to 13 privately owned vehicles were being replaced by one rideshare owned vehicle and that Zipcar estimates it has reduced the number of cars on the road by 400,000.
Uber Alternative ride initiative
Uber is not ignorant of the fact that not everyone wants to use rideshare cars, a lot of people living in the city are happy with public transport systems, especially the train and tram services some cities provide. This is why they are expanding their marketing mix and providing new services that include bike and scooter sharing, public transport ticket purchases at a reduced price when using it in addition to using their other services, as well as going into the car rental business that provides a service similar to Zipcars. Uber is also offering a taxi app in some cities and a shuttle and bus service in others.
All these add up to a massive reduction in the need to buy a second car and in some cases ownership of a car at all.
My take: Ridesharing is still evolving, the sharing of data, the development of alternative vehicles, services, energy source are all integrating into a symbiotic evolutionary dance that is leading the world into a new transportation era. An era where car ownership becomes defunct and AV replaces drivers. Where planning a ride is simply ordering a car that suits the occasion and the destination. Its not so far away, and perhaps in 10 years' time, we will start to forget how it was to own a car, just as we forgot how it was to dial a call from a land line when there were no mobile phones.