Its New years eve, 2017 is drawing to a close, and millions of Americans will be celebrating this event as usual in parties and bars. Uber has no intention of missing out on the action and is planning a high price surge for the coming event.
Customers tend to vent their anger at Uber and Lyft due to the significantly higher prices, but when millions of people are asking for a ride and drivers are working instead of celebrating with their families, Uber has no intentions of lowering prices on this event.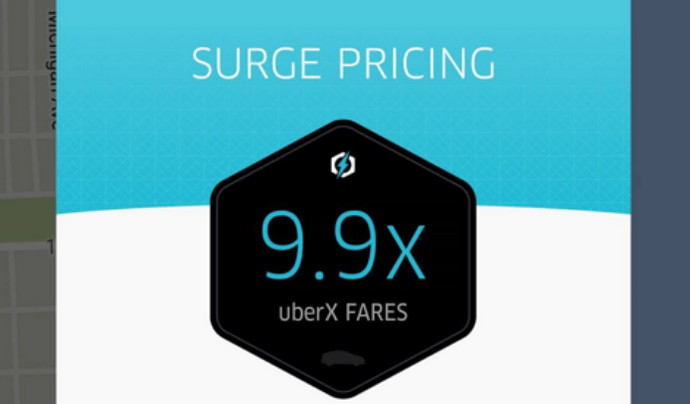 Surge pricing is event-based, the larger the saturation and demands the higher the price. Add to this the night time effect, and include inebriation and you have a wonderful breeding ground for high and justified surge pricing. The prices will be at their highest between midnight and 3 a.m. local time. Prices will also be higher than usual between 8 pm to 11 pm in most cities as customers will ask for rides instead of driving, which will allow them to drink freely, relying on the ride back home.
Uber stated that prices are posted in the app, and customers will need to confirm that they accept the price before the request is accepted. Lyft also follows the capitalistic route (quite rightly so) and said to the press and media: "We are looking forward to offering affordable, reliable, and convenient transportation on New Year's Eve and do everything we can to ensure there are enough drivers available for those using Lyft to move around on this busy night. Lyft's dynamic pricing allows us to maximize the number of rides available for passengers by incentivizing drivers to get on the road when demand is high. When the ride requests from passengers greatly outnumber available drivers on the road, our system will automatically turn on Prime Time. When Prime Time is in effect, passengers are alerted and required to confirm they accept the multiplier before requesting a ride."
Tips for avoiding high surge pricing:
Designate a driver with your friends, have someone that doesn't intend to drink.
Use public transportation.
Hail a taxi cab (if you're lucky)
If you live near the designated event, walk there and back.
Drive, but don't drink.
If you do intend to use Uber or Lyft, here are a few issues to consider:
If you drink too much, take a vomit bag or double line a plastic bag and schedule a ride back home, its better to schedule than try to hail an Uber or Lyft when you cannot read your phone keys.
Maybe consider using Uber Pool or Lyft Line.
If you have a license to carry a weapon, don't. Uber drivers are wary of passengers that pack a weapon and can refuse or cancel a request if they suspect that they are in any form of danger form a drunk passenger.
If you have problems holding your drink, please take someone to chaperone you, it will help when you enter the car, and will keep you in check in case you do something stupid.
https://test.ridesharingforum.com/t/how-to-increase-your-earnings-in-slow-periods-driving-for-uber-and-lyft/60