Hi everyone, when I first started to drive for Uber a few years ago, I owned my own car, and then Uber lowered their prices, and I had to think of another way to save money. You have to remember that the car depreciates, and it has a lot of expenses that make Uber driving a low-income job. They don't promote this, of course. Instead, they dazzle you with great monthly income promises. In reality, that's a lot of bull, and you end up earning closer to $4 per hour and not $15, because of all your car expenses.
So, I sold my car and decided to rent a car instead; it works out cheaper than leasing because with leasing you still have to pay a monthly income, but you also have to factor in the depreciation factor. With renting, you get a car that is covered for all its maintenance, has a basic insurance which you need to bolster with a ride-share friendly insurance policy in any event, but the depreciation is not yours and when you don't want the car you return it and save money on the weekends or days you don't use a car.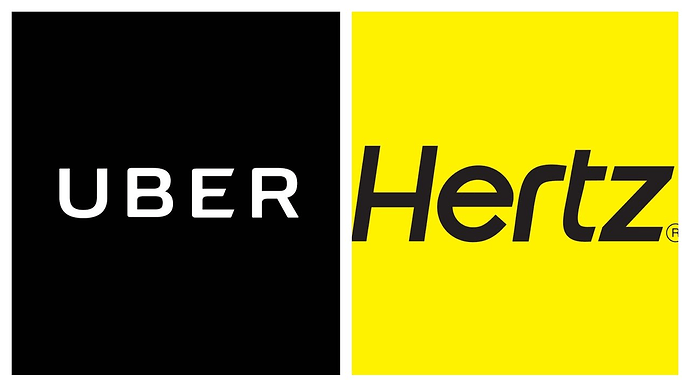 I went to Enterprise car at first and paid up to $250 a week, which was a lot, but when you factor in six hours of driving and an average of 2 rides per hour, I was making gross $15 per hour which gave me $90 a day without tips. So, in a month I was making $2,520 because I worked 28 days a month, and 39% went on rent. As you guessed this wasn't much of an upgrade from my previous situation, but it did give me access to clean, new cars on a constant basis.
Then Uber partnered with Hertz, and the weekly rent dropped to $200 which is $800 per month of driving, and my percentage of income was only hit by 31%, which is reasonable when compared to the previous expenditure models. Factor into this the tires, maintenance, car registration and other stuff that takes time, you don't need to worry about any of it, you just get a replacement rental car and continue to drive.
Renting a car is also a great way to drive for Uber in multiple states. All you need to do is apply in each city you want and rent the local car that has state licenses. You are now covered to work in more than one city in different states. It also allows you quick and easy pickup and drops off for replacement cars.
Another facet of rental cars are that they allow you to enter airports, so you have an automatic airport car ready to drive without having to deal with special permits and such.
Renting is for part-time drivers only, this is not a full-time solution if you are going to be a constant Uber driver, even if you have another job, then you don't want to rent a car. I don't constantly drive for Uber, and sometimes I take three weeks off here and there for other gigs. So, renting for Uber is perfect. I have my car that is a used one; it doesn't meet Uber standards due to the scratches and upholstery, but I have no intention of investing in a car and then having to meet the monthly installments just to justify driving for Uber.
What got me going in this direction was the closure of the Xchange leasing program, that was a great incentive for drivers but bad money for Uber who lost a fortune on it. So, drivers only needed $250 to get a car and just meet the monthly installments. It's closed, and now you get thousands of Xchange lease drivers returning their cars and seeking a quick solution, which opened the doors to Hertz or Zipcar since Uber closed their relationship with Enterprise.
Zipcar is a great solution when you are not driving for Uber, and suddenly the weather turns sour, and you decide, heck, I'll do some Uber driving and get some cash in quick. Zipcar offers a perfect solution. Zipcars are found in and parked in specific areas around cities and towns in the US, and they are mainly seen on college and university campuses. A Zipcar can be rented for a short period of 30 minutes to a seven day period, but you have to create a Zipcar account and be given a Zipcar credit card. Once you have an account, you can order a car up to one hour before you need it. You locate your car and use your Zipcar credit card to enter the vehicle. You have a 180 mile limit per day, anything over that will cost more. Most cities set round trips as mandatory, so you will need to return it to its parking place. Fuel and insurance are included in the fee. The basic requirements to join Zipcar are: you must be over 21 years old (or over 18 in certainly affiliated campuses). You must have a valid driving license, not necessarily the US, and a clean driving record
Zipcar membership fees that are set according to the package that you choose. There is a one-time application fee of $25 and monthly or annual fees applicable. Rental reservation fees that are around $10 per hour. Daily rental rates are approximately $80.
Go to the Zipcar website or app and check on all the cars available in your area. Choose the car you want and reserve it online. You can do this up to one hour before you need the car. Remember that most cities require you drop off the car from whence you found it, check to see if your city is one of the few that allow one-way trips.
This is only a one day few hours solution since the $10 per hour is steep when you consider how much you can make in an hour and then deduct the $10 from it.
Finally, I will re-iterate, rental is for part-time driving only, it is not a full-time solution for drivers.