Introduction
Driving in cities varies according to each cities geography, social layout, and hot spots. The traffic issues have a major impact on how a city manages its transportation issues, and that is why public transport systems don't cover the needs of the many. This is why rideshare has become so popular since it provides a personalized solution to a time old problem; how do I get from where I am to where I want to be? So here at RSF, I decided to start preparing guides for my readers, comprehensive insights into anything and everything rideshare related.
RSF City Guides for Drivers
This series will look at specific cities and focus on issues that are related to each and every city. Take into account that all information provided will change over time. Cities tend to change their transportation routes, and business, as well as social locations, move around.
Chicago, Illinois
Chicago is the third most populous city in the US with 2.7million people. It is also the third largest rideshare market in the US, and one of the oldest in rideshare history, with Uber opening up in 2011 and Lyft in 2013. The Chicago metropolitan area, called Chicagoland has 10 million residents. Note, that these figures do not include tourists and business visitors.
The best times to drive rideshare in Chicago are:
Weekday mornings between 6 am, and 9 am
Weekday evenings between 5 pm and 8 pm
Weekend evenings between 6 pm and 8 pm, and between 10pm and 5am
Weekend mornings and afternoons between 10 am and 2 pm
Hotspots
Weekday Rush Hours
McCormick Place
The Loop
River North
Weekend Evenings
Chinatown
Pilsen
Millenium Park
River North
Other Busy areas:
Wicker Park
Lakeview
Hyde Park
Evanston
Old Town
Best rideshare locations in Chicago
The Loop from down Franklin
Gold Coast
Streeterville
Hyde Park, where you will find the University of Chicago
Wicker Park on Milwaukee Avenue
Pilsen, Lagunitas
Beverly, Lakeview, Northwester Evanston, Morgan Park, Lincoln (DePaul) Park, Bridgeport
You have to take into account that all these areas are busy constantly. Residential areas tend to be busier on weekday mornings and on weekend evenings.
Only Evanston is in the suburbs; the rest are in the city. For instance, Oak Park or Glenview are suburbs and less populous than the city, but you will get work there if you are in the area for a drop-off. The difference is like being in the loop on a Tuesday afternoon; you will have over half a million people saturating a mile radius, which is not the same as you will find in Evanston.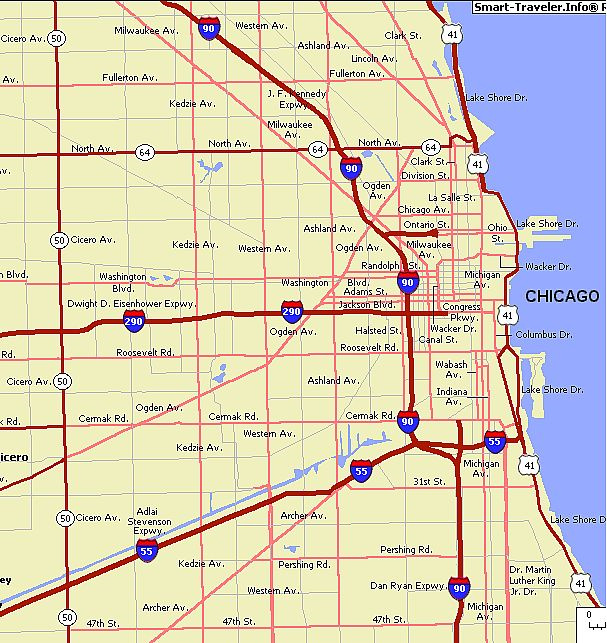 Chicagoland Interstate
The busiest areas in the Chicagoland interstate are as follows:
I-90/I-94 - From Dan Ryan Expressway/Chicago Skyway junction, Exit 59C North to Pershing Road Exit 55A (South of City)
I-90/I-94 - From Claybourn to West Division Street (North of City)
I-290 - From South Pulaski Road to South Sacramento Boulevard
I-294 - From O'Hare Way to Irving Park Road
I-80 - From IL83 to US41
The least busiest areas in the Chicagoland interstate are as follows:
I-90 - Chicago Skyway
I-355 - From IL7/West 155th Street to I-80 Junction
I-55 - From US52 in Shorewood to US30 in Plainfield
I-57 - From US30 in Matteson to I-80 Junction
I-88 - From US31 in Aurora to Farnsworth Avenue
Busiest Non-Interstate Streets in Chicagoland
North Lakeshore Drive/US 41 from West Fullerton to North Cameron Drive
North McCormick Boulevard from West Touby Avenue to West Devon Avenue
US 53 from Palatine Road to IL62
East Congress Parkway from Chicago River to South Michigan Avenue
IL390 from IL19/West Irving Park Road to North Mecham Road
Least Busy Streets in Chicagoland
Elm Street in Winnetka
Davis Street between Forest Place & Sheridan Road near Dawes Park
143rd Street between Kedzie Avenue and California Avenue
East 24th Street between South Michigan Ave & South Indiana Avenue
198th Street between Torrence Avenue/IL83 and South Burnam Avenue
Busiest Streets over the Chicago River
North Lake Shore Drive

East Congress Parkway from Chicago River to South Michigan Avenue - 82k (highway offramp)

North Michigan Avenue

West North Avenue

North Western Avenue

North Ashland Avenue

West Roosevelt Road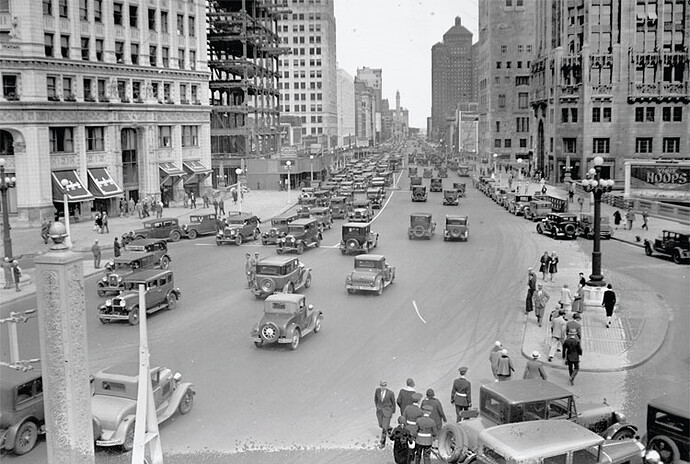 Chicago has always been busy
Driving for last traffic tips
Downtown Chicago is easy to understand, so long as you know which way North is, you won't get lost. Downtown is a grid, and the streets go north and south, or east and west in blocks. This means that if you got lost, missed your turn, then you just take the next one and go back. Most of the streets traverse the entre city, so you can use any one of them to reach the outskirts of Chicago.
Weekend nights on the loop will remain busy until 10 to 11 pm. You will also find that the office workers on Wacker stay in work till late. On the weekends it's a constant shift of rides starting around 6pm and ending at around 5 am. If you want a really lucrative night and don't mind the drunks, then look out for the 4 am bar locations.
Another time that is busy during the day is brunch, yes, brunch in Chicago is a big thing. So, get ready for surges just outside the loop near the restaurants on Randolph.
Using inner city roads can be faster than taking the highway during rush hours, and it also gives you a chance to see new hotspots on the way to your destination.
Larrabee, Leavitt, Hoyne, Halsted, Kedzie, Ciceroe, Harlem Ave., and Western Ave. are all streets that you can use that are north-south bisections of Chicago. You can use them to reach the suburbs instead of using a highway. The east-west streets include Roosevelt Road, Belmont Avenue, Fullerton Ave, Touhy Avenue, and Cermak road.
Getting across the loop can be done by using Lower Wacker Drive, for example, it is used for getting from Streeterville to Eisenhower, as well as taking the Lake Shore Drive route to the Loop. Just take care not to use the Lake Shore Drive route in the morning rush hour, this is also the same time the Randolph exit jams up, so you might consider using Upper Wacker at this time of day.
If you live in the suburbs, then always use the destination filter when starting a shift. If you are starting out from the south, then set your destination for O'Hare.
The south side magics
For some unknown (racial?) reason, a lot of drivers avoid the south and west sides of Chicago. Big mistake, there are over 750,000 residents in the South Side, that a city size population and warrants exploitation. Take into account that most of the rides from the south or west side end up in the north and east side. These are long and lucrative rides, and yes, you will be tipped.
Since a lot of drivers ignore these sides of Chicago, it means driver saturation is low, so you get more ride requests in a shorter time period.
O'Hare and Midway
There are two major airports in Chicago; these are O'Hare and Midway. You will usually receive a request for a pick-up when dropping off, if you don't get one immediately, then head to the staging area and check out to see the waiting queue. If the queue is long, don't bother waiting, just head back to one of the busy areas.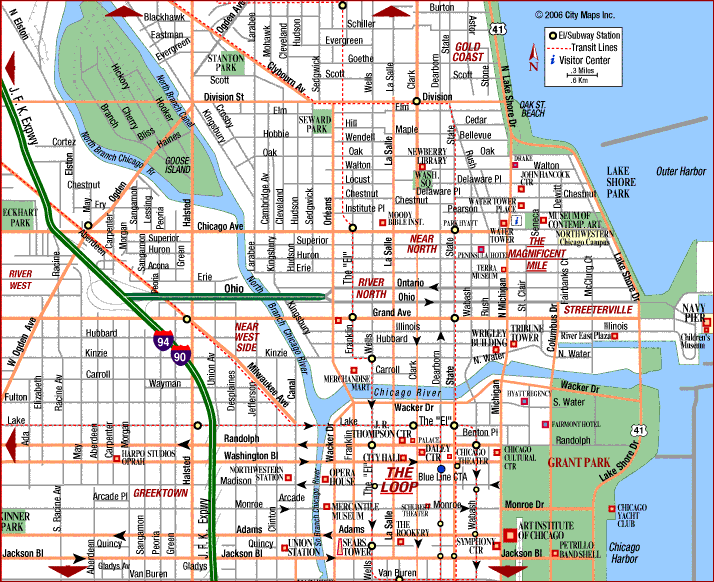 Chicago Downtown Road map
Lyft vs. Uber
Lyft managed to increase its coverage during 2017, and Chicago was one of the cities it truly expanded. Today you will get just as many rides driving for Lyft as you will from Uber in downtown. This is great since it means you can drive for both and switch for maximum shift efficiency.
In regard to Chicagoland, Uber still dominates the scene, mainly in the suburb. Today you will still wait longer for a Lyft in the suburbs, then for an Uber.
At the moment, both Uber and Lyft drivers are limited to a 10-hour shift per day.
One major advantage of driving for Lyft is the signup bonuses that they pay out. Uber pays around $700 gross for 60 rides, as a guarantee. While Lyft will pay $3 per ride bonus for the first 100 rides. You will need to check the bonuses in depth on the day of the sign up to be sure what deal you are getting.
Chicago Driving Tips
Chicago is the same as any other major city, and no, we don't have special rules here. Just drive carefully, and you will be fine. What we do have are a number of tips that will greatly improve your driving experience. If you want up-to-date driving reports, check out http://travelmidwest.com/lmiga/map.jsp?mapname=chicagoArea
Know your street names
Chicago also likes to name their freeways, so when you look at the map and see I55, that would be called Eisenhower and the I-190 is known as Kennedy. Here is the full list:
Numbers of Names
I-190: Kennedy Expressway
I-290: Eisenhower Expressway
I-294: Tri-State Tollway
I-355: Veterans Memorial Tollway
I-55: Stevenson Expressway
I-57: (unnamed)
I-80: Kingery Expressway, Tri-State Tollway, (unnamed)
I-88: Ronald Reagan Memorial Tollway
I-90: Chicago Skyway, Dan Ryan Expressway, Kennedy Expressway, Jane Addams Memorial Tollway
I-94: Kingery Expressway, Bishop Ford Memorial Freeway, Dan Ryan Expressway, Kennedy Expressway, Edens Expressway, Edens Expressway Spur, Tri-State Tollway
Names of Numbers
Kingery Expressway: I-80, I-94
Bishop Ford Memorial Freeway: I-94
Chicago Skyway: I-90
Dan Ryan Expressway: I-90, I-94
Ronald Reagan Memorial Tollway: I-88
Edens Expressway: I-94
Edens Expressway Spur: I-94
Eisenhower Expressway: I-290
Elgin O'Hare Expressway: I-390
Kennedy Expressway: I-190, I-90, I-94
Veterans Memorial Tollway: I-355
Jane Addams Memorial Tollway: I-90
Stevenson Expressway: I-55
Tri-State Tollway: I-294, I-94
Five Important tips
Beware One Way Streets
Chicago is full of one-way streets, learn the map well. Drive around for a while without passengers and earn the one-way routes, so you don't get confused. It also helps to know more about the area you drive in even when using Waze or GPS navigation.

The sports and entertainment traps
Chicago is crazy about sports; it proves this by boasting five major professional league teams including the Sox, Cubs, Bears, Bulls, and Hawks. Entertainment is also a major event in Chicago, and you have leading performers filling up Soldier Field. Check out when there is a game and when a major artist is coming to perform and avoid these areas at all costs. Take note of the Lollapalooza weekend, don't even bother trying to drive around the Grant Park area.

Parking can be difficult to find
As with all major cities, parking in Chicago can be costly. In fact, one finding from SpotHero shows that the average parking rate in Chicago reaches 34 per day. Now, I don't expect an Uber or Lyft driver to park that much, but just take into consideration this cost as an expense you should avoid.

Cyclists and pedestrian Rules
Actually, the title of this paragraph should read, Cyclists, rule, since they think the roads are theirs. Pedestrians get in the way of cyclists and cars, but cars are a cyclist worst enemy. Now I actually cycle myself, so I know how they feel with a lot of inconsiderate drivers on the roads. Just take care and keep out of cycling lanes at all costs.

Get the City Vehicle Sticker
If you live and work in Chicago and own a car, you need to buy the city's wheel tax sticker. The income from this fee goes to road maintenance, so while it's an expense, it's a good one. The average car fee will be around $87 a year. Its also mandatory, so don't try to avoid or evade it.
20 Chicago Only Tips
Expect to drive next to a convertible in winter, but with the windows rolled up.
Be aware of the watermelon trucks that stand on the side of the roads during the summer.
Take heed of the overloaded scrap metal pickup trucks.
Note that pedestrians are notorious for just walking nonchalantly into the middle of the streets.
July 4th fireworks can be set off in the middle of the road.
The bad parker that cannot just parallel park, holding up traffic while fitting a full-size SUV into a tight spot.
Watch your paintwork when a parking ace using the "Chicago Kiss" maneuver, which is slightly tapping other cars as they park.
Don't be fooled by all queues; some lines are not traffic, they are car wash queues.
Some cyclists will be faster than you.
If you have an Uber sticker on, its fine, but sometimes when you are not driving a shift, people will still come up to you to check if you're their Uber.
Get ready for that toll lane jockey, the idiot that passes over four lanes to get to the "shortest" lane.
Or perhaps you are behind the driver that decided to stop so far from the toll booth he needs a courier to hand over the toll fee.
One more Chicago toll driver you will encounter, the one with an out of date I-PASS that holds up an automatic lane as they back out of it.
You will encounter a wonderful marsh gas smell of Sulphur on Indian and Skyway, no its not Lucifer visiting from Hel, its just the way it smells there.
You should take heed of the Rahm's motorcade running red lights.
When driving LSD take heed its potholed to death, which means you and other drivers will be weaving all over the place to avoid the holes.
If you think all of them are "potholes" beware, some of them are more like "sinkholes."
Turn up the Bass and feel the vibrations. Its amazing that some cars stay "glued" together with all that vibration.
Chicago's current Best Food Hotspots (Personal Selelection)
Bellmore, 564 W. Randolph St.
K.Y. 1239 W 18th St
Lonesome Rose, 2101 N California Ave
Gibsons Italia, 233 N Canal St
H Mart, 711 W Jackson Blvd
The Warbler, 4533 N Lincoln Ave
Sushi San, 63 W Grand Ave
Bar Biscay, 1450 W Chicago Ave
Marchesa, 535 N Wells St
Radio Anago, 226 W Kinzie St