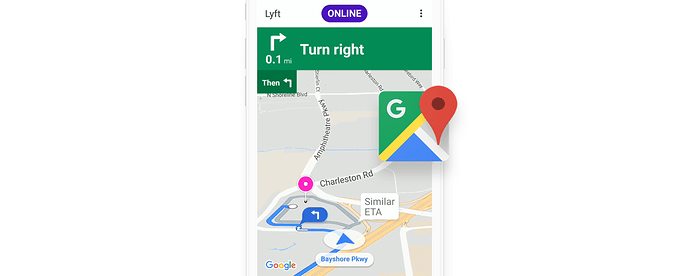 (Image source: Lyft)
Without a navigation system, you're in trouble.
This was true for a man who takes his love to a new restaurant in town. When he takes a long route, the couple gets to their dinner spot late. The woman may even feel uneasy about the whole trip and even lose her appetite along the way. The tragedy!
The long ride becomes boring, the night starts fading into the late hours, and the woman becomes dissatisfied.
It's also true for Lyft drivers trying to survive in the gig economy. When the direction you're taking is jammed up with traffic, you'll spend the next two hours in line, turning your passenger's happy experience into a nightmare. That will stain your good reviews and crash your business.
The navigation system is the one tool that tells you what right path you should take, warns you of bad roads chock-full of traffic before you follow them, and guides you safely to your destination. For Lyft drivers, it will even be better if the navigation is within their Lyft Driver app, just within reach without the need to log out of their app and use other third-party tools.
Well, the good news is, Lyft has created a navigation system for its drivers to solve that problem. Earlier this year, the company unveils its new technology, where a driver can no longer have to switch from their app to use other navigation systems. Right there on the Driver app, you can use the in-built Lyft navigation feature to get to safely get to your location without any hiccups.
Let's look at what the new in-app navigation app is, its benefits, and why, as a driver, you can't go without it.
What's Lyft navigation
On 12th, October, this year, Lyft created a new in-build app for its drivers, known as the Lyft Navigation app.
The app is designed to keep drivers relaxed as they drive, without losing concentration to switch to a separate app to navigate their route. Build directly in the Lyft Driver app; the navigation system is integrated with Google Maps, which is aimed to help drivers know the exact direction to their destination, including their next pickups and drop-offs—without having to deal with the hiccups of witching from the third-party apps.
The company doesn't just build the feature to compete with its biggest rival, Uber, who has been using similar feature since March this year. In contrast, this new invention was a byproduct of drivers' feedback, calling for in-app navigation for better, safer experience.
Sign-up Bonus: $300 - $1000 depending on the city
https://www.lyft.com/drive-with-lyft?ref=BIKRAMJIT2
Built purposely for Lyft drivers
Again and again, Lyft drivers complained of the difficulty of having to switch from their Driver app to navigate the streets, see where they are supposed to be going. "We have received plenty of feedback—from our drivers—about the need to incorporate an in-app navigation system into the existing Driver app," Lyft's head of product design, Frank Yoo, said. "So, we thought to build something purposely for them."
Now Lyft drivers have nothing to worry about. The navigation system is directly in their Driver app. Once a passenger hopped into their car, they can hit the roads; the app directs them exactly to their destination, giving them a smoother, better driving experience.
Improving driver experience
There is nothing more satisfying for drivers and even passengers than to relax on the seat, as the new in-app navigation directs their journey to their destination, without toiling with other navigation tools out of the Lyft's Driver app.
The idea of serving drivers with better experience has always been the decision behind this new navigation feature. With this new app, a driver can simply drive as the navigation leads them to their next turn, next stopover, or next dropoff. For example, the navigation system can be able to indicate:
The roads available
Alternative routes
Traffic congestion on the roads or a specific path
Direction that might be taken to get to a specific destination
The location of food, banks, hotels, fuel, airports or other places of interests
Giving directions or options to drive on highways
The shortest route between the two locations
The driver doesn't have to switch the Lyft Driver app and checks another tool, notably Waze. Of course, that few seconds diverts a driver's attention, which is a big problem for their safety. Removing all these trivial issues and replacing them with a better experience, one that puts more comfort and ensuring maximum safety for both the drivers and passengers is the main goal for the new Lyft navigation system.
What if I want to use my preferred navigation app instead?
If on the other hand, you prefer to use other apps, such as Google Map or Waze, as many you can simply do that. The only thing is, you have to opt out of the Lyft in-app navigation before you can be able to use other apps.
Conclusion
Ultimately, the one who drives with a navigation system reaches to their destination safer. For ride-hailing drivers, the one with an in-app navigation device in their Lyft Driver app typically enjoyed some unfair advantage: They no longer have to switch to different navigation tool to find their next drop-offs.
The driver, once they start their engine, they don't have to worry about anything else. The in-app navigation guides them all the way; they can just focus on driving and getting their passenger safely home. And with a big smile.