Do they calculate your weekly earnings then subtract the rental fee
Driving my Lincoln Town Car was becoming too costly to continue driving with U/L. As a result, I rent a car from Maven for $241 per week, and although expensive it allows me to earn, above the cost of rental fees; which, includes insurance, unlimited miles, and free repairs including oil changes, etc.
I provide a CC # which Maven charges weekly…totally separate from rideshare and Maven doesn't care who you drive for.
Totally not worth it.
The ONLY plus to it is you get a brand new car.
When all is said and done you make nothing leasing through Uber.
Many contracted car dealerships pulled out of being a partner with UBER.
Primarily because the dealerships were losing money.
What I don't get is how everyone says it's not worth it. If you rent with Lyft and drive enough, the weekly payment is very low. I put over 66,000 Miles on my car, so renting is a good option for me. The people saying it isn't worth it, how much do you drive and do you consistently earn $1k or more per week? Just curious.
Not sure about renting but leasing in my market runs about $400 a week. Now that may include insurance but doesn't cover you other primary expense which is gas. The way I see it, it's not worth it to me cause I don't want to live in my car, which is what I would have to do because of how much driving I'll be doing, trying to get ahead
It can be as low as $40 a week. I typically drive over 100 trips a week anyway. Even though I won't get a PDB anymore, I can still make $1,000 a week or more without all the miles on my personal vehicle. That's what I'm looking at.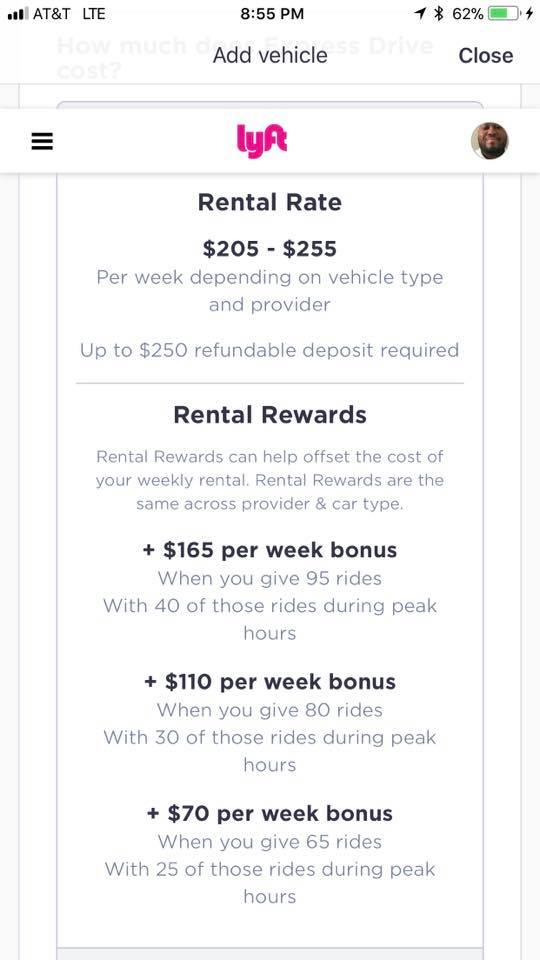 Payments were $178.00 weekly!
For an average car. Read that as a Hyundai…lol
Not including the exorbitant car insurance, they insist you obtain.
Factor in gas, etc…
Totally NOT worth it.
You're paying triple what you would if you actually leased through a car dealership and not UBER.
I looked into the leasing programs last fall. Payments about $200 a week. Ended up financing a 2015 ford focus. Gas, maintenance, insurance, and payment combined is about $500 month. Was definitely a smarter choice for me to buy.
If you Lyft full time and are okay giving up your PDB, a free Express Drive car looks appealing.
I'm about to try out an XL/Plus vehicle through HyreCar to see if I want to buy one. The costs vary, but this van will work out to a little over $50/day, so it's not something I'll do for long.
Driving a rental in NY, 2017 Toyota Camry, works for me…the fee is $459 a week and I make that in a day sometimes…Pay off the rental and the rest of the week is my money…when one of the cab drivers decide to hit the car, everything is taken care of…when I need tires, oil change, whatever, it's taken care of…I can put as many miles as I want on the car! No worries…
I do Mavin. 214 a week and that includes everything. I pay that plus gas, and I'm still putting anywhere from 400 to 50o a week in savings. And, I drive both platforms. I get my money for the rental in the first two days, the rest of the week is my money. If the car is in the shop, I don't pay. They provide mine with a list of places to take the car for maintenance, including windshields, tires, brakes, everything. I love it
I can also use express pay if I want. If you rent thru Lyft, you can't use express pay. The same with Uber. Plus, you can only drive their platform.