London UK, while Uber fights to stay operational in the UK capital city, Citymapper a transportation app service with an official and licensed bus route is now launching its London Taxi app service to accompany its bus service. Transport for London (TfL), London's transport authority confirmed to the media that it had given Citymapper a license to operate a taxi service in the city.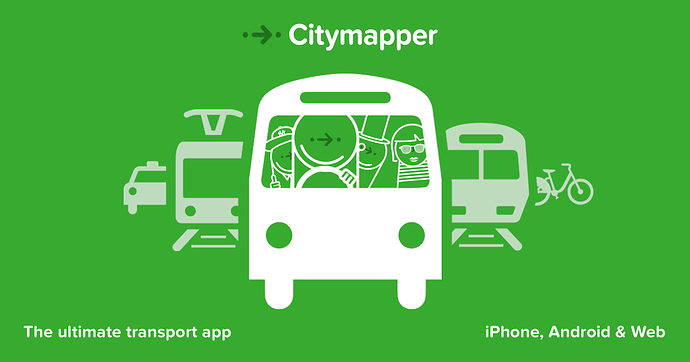 Citymapper started out as a map app, providing drivers with a comprehensive interactive mobile map and grew into an operational service provider. It then collaborated with Gett, and Israeli taxi app service that operates in the UK with black cabs, and recently moved into providing a late night bus service with its own line of buses.
Citymapper has been updating readers via its blog page and notifying the public of its progress. Citymapper claims that its bus app and bus service provided some interesting features and functions such as contact-less payments, open seat tracking, smart displays, and USB chargers. It also has a popular music selection playing during the ride.
On the flip side, they have been facing a lot of regulatory red tape for every new action to be taken. Buses are regulated much more rigidly than cars. For instance, when they wanted to change the route of a bus ride based on early rider information, they had to wait for weeks before they received the authorization for the change in route. Based on their experience with changes taking time, they understand that while it is important to be able to go wherever they want, whenever they want, is more of a fantasy than a reality with buses.
TfL allows for up to 8 passengers per rideshare ride, which means that busses are not part of the rideshare regulatory process. This required Citymapper to rethink how it operates, and that is why it has developed a taxi service of minivans that will enable it to meet and work within the "go wherever you want. However you want, how often you want," principle which is what enables rideshare cars to be so successful.
Citymapper stated that "As a result, a private hire vehicle can respond to demand, a bus cannot. That makes it hard for a bus, even a smart green minibus, to be part of the 'demand-responsive' future."
By opening up their services to a taxi/rideshare service, they will fall into the same category and issues that Uber faced and is still facing in London. Perhaps Citymapper has one advantage, they have not stepped on any toes during their experience in London, and this goes a long way when asking for authorizations to operate. Also, Citmappers data sharing is much more transparent than Uber's, something that has been an issue with TfL when dealing with Uber.
Citymapper confirms the old saying, its not what you know its who you know that counts. In Citymappers case it knowing the regulatory board and being nice to them while they started out. A smile goes a long way, even when fighting back the urge to scream.