All Amazon Flex couriers know, when the holiday season arrives, peaks become constant. Christmas is the busiest time of the year for all retailers, online and brick and mortar. So, it's the time when Amazon couriers will face a lot of blocks and a lot of demand as well as a lot of happy smiling faces. This article will review the issues related to peak seasonal service as well as ways to maximize your customer's satisfaction.
Amazon Flex – Standard Routes
One of the first features of seasonal deliveries that a courier will notice is large clumps of packages being delivered to the same locations. This means there is less mileage driven by greater distribution. This also improves the drivers delivery experience since they don't need to stop as many times as before. What couriers will need to watch out for are the actual packages being delivered, especially to large residential complexes where addresses can be next to each other and then you have to match the number of packages per address correctly. Some couriers like to drop off packages at the post delivery office in some larger residential complexes; I prefer to deliver directly during the season, this ensures correct delivery. I also don't count on neighbors delivering for me, so if there are some addresses that go unanswered, then I deliver it to the post-acceptance office on the block. During the peak seasons, you will get a mixture of standard delivery items and gifts, so you will need to maintain your standard delivery process while mixing in your seasonal delivery process.
Same Day Deliveries
As the season progresses closer to the actual holiday dates, Prime Now deliveries become more frequent. So much so, that is quite common to get an abundance of same day blocks. While most same day deliveries are usually for longer distances, during peak seasons that change, and you can get many same day deliveries to a very close geo-fenced area. Even so, expect a mix of standard same day delivery and seasonal same day deliveries that can spread your delivery area to over 100 miles.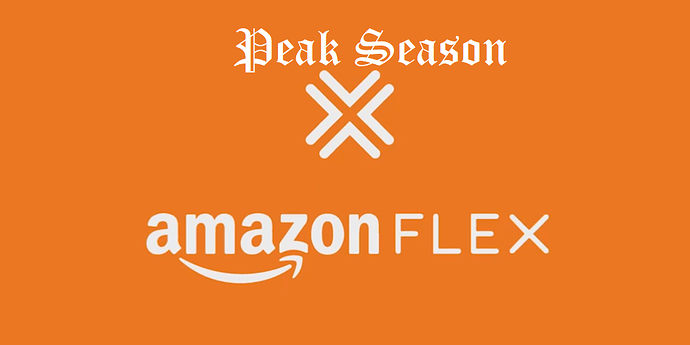 Prime Now/Fresh
There aren't any real changes in Prime Now and Fresh deliveries over the season, other than a change in some items being purchased that are seasonal items. The main difference will be felt over the weekends, and when the weather is bad, then customers will prefer a delivery service to actually going out and shopping in person. I always felt this has nothing to do with the holidays; it's just a seasonal issue related to the weather during winter. However, there is one issue that the holidays do change, and that is those last minute forgotten items that become critical, and then you get a lot of delivery requests for gifts and small party related items.
Restaurants
Sometimes you see a dip in demand and others no change. As the season progresses, the weather is the major factor here. I found that people will prefer to have their meals delivered to them, rather than weather the cold and wet nights. However, some families entertain many guests and catering is sometimes a perfect answer for the holiday preparations. Another group of deliveries is to house sitters and babysitters that are frequently used during the school holiday times, while parents still work.
Block Availability
The holiday season brings with it a proliferation of blocks. Demand goes up, and more blocks become available Logistics drivers feel this more than Prime Now, and during the Christmas season, you always find blocks available at every possible hour of the day. Also, most DC's remove their caps during the season, and since every DC has its own pressure and load to deal with, caps and blocks vary per city and State.
One major change that a lot of couriers are happy to see are blocks being available after a four-hour block is over. They can then take another block and continue, doing two blocks a day which is a great feeling. This also makes returned packages easier to re-deliver at a later time, completing all deliveries set for the day.
Black Friday/Cyber Monday
These days, and in fact any online hyper-sales-drive day will generate more blocks starting from early in the morning and extend well into the night. These days will create a surge in block demand that starts on Friday and continues through the week to Wednesday. These days are very similar in style to seasonal peaks. During these sales days, you will be delivering a lot of the same item to many customers, since Amazon offers special deals that are snapped up in the millions.
The HYPE
Amazon will create incentives for couriers to work harder in peak seasons. This will include a raise in pay and incentives for performing faster and better delivery services during the peak. Most of the incentives are not in direct cash but in Amazon gift codes, the more a driver performs, the more gift codes they get. The performance will be in the number of completed blocks and minimum returned packages.
Prepare your Vehicle
Since we are talking about winter driving and a lot of it, you should prepare your car accordingly. Now the season is felt differently in different parts of the US. So, in the North and east coast, you will get freezing cold weather, while on the east coast and south you will get warmer and wetter climates. Drivers have to make sure their cars are ready for the winter, here are a few tips to prepare your car if you live in a cold climate area:
Change your oil, brake fluid and add anti-freeze to your radiator and windshield water. Check your car battery and check structural issues under the car. Buy winter tires or snow chains or both if necessary. Ice scraper and snow shovel and gloves should be in your car at all times.
Frozen Car Doors; The best solution to prepare for in the winter is a quick spray of cooking oil. You get to take a standard cooking oil spray can and spray over the rubber components of your door lock. Wipe off the excess oil and that will cause your doors to remain frozen free and open easily every time.
Misty Windshields; The ultimate simple solution for every winter is a potato. No, you do not bake it and eat it hot to warm up. You cut it in half and smear it over the windshield from the inside, then buff the window. This will ensure that the steam will not stick to your glass and you can drive steam free.
Tire inflator and pressure gauge; no matter the season you must always check your tire pressure once a month at least. If you are a professional driver, you should check once a week. With cold weather come some internal pressure changes in tires, and they usually deflate by a few PSI, so before the cold comes in, double check your tire pressure and fill them up. I maintain a tire inflation and pressure gauge in my car at all times; you never know when you will need to use the inflator, and the gauge is good to check pressure when you think it's time to change and don't want to bother going to a gas station to check. Tires are one of the most important parts of your car, in fact in terms of safe driving they might be the most important since they are the only part of the car that touches the road, and as such their surface must be in perfect condition. Different tires fit different surfaces and weather conditions. For starters, if you drive in cold weather you will need to use all-season tires. The inflator and gauge are actually cheaper items then thought, and they connect to the car cigarette lighter adapter. It's also useful for inflating water beds.
Spare tire or flat kit and car toolkit; some cars come with a tire compressor and fix a tire kit such as BMW's, but for most common cars it's imperative you keep one of these in your luggage compartment. Just remember that these kits inflate the tire with some kind of foam, so once you use it, you will have to change the tire. If you can change it for the spare tire you have, that would be better, but for those occasions when you have a double puncture or no spare to replace the flat, then use this and drive straight to your mechanic or tire center.
Jumper cables and a portable battery jump pack; there are two options for a flat battery, either jumper cables, and then you have to rely on the good nature of a passing car owner, or you can spend a little and buy a portable battery jump pack that kick starts your car. You could slug around with you a spare battery if you feel like it, but that's only if your battery is so old you want to keep it until it drops dead, and then replace it immediately. Most battery related cases usually start in the winter, but on occasions, you get those battery jitters all around the year, so keep jump cables for sure, and maybe add the battery pack for back up.
Make sure you fill your gas tank every morning, you do not want to be stuck with no fuel and make sure you have a quart of gas bottled in your luggage compartment, in case you are stuck without fuel. We only recommend this in the winter
Vehicle Comfort
Since you will be driving a long time, you should make sure your car will be as comfortable as possible. Remember, sometimes you can get up to 5 blocks a day during the holiday seasons, and that means driving for 14 hours a day! Here are some suggestions to have in your car for a comfortable ride experience:
Powered Cooler, this is useful for storing food drinks and keeping them cool. You might think that you only eat hot, but no, a cold coke and sandwich can brighten up the day or night.
Thermos; preferably a large one with a push lever that makes it easier. I use two, one with coffee and the other with hot chocolate, or sometimes clear chicken soup. Coffee is a must, and I get quite a lot of cups from one large thermos.
Phone charger cable, this is a must. You do not want to be in the middle of a schedule and have a mobile device with no power. Place the cable in your car and don't take it out, ever. It's best to take a magnetic smartphone model since it saves on the USB wear and tear and it is so much easier just grabbing the phone and dashing out without the hassle of discounting and reconnecting. Just make sure you place your phone in a good place, so you don't knock it out of position when it is charging. You should also have a USB charger as back up or used when you need to watch the GPS map for deliveries that you are not sure about. You then connect the USB cable to the phone which you place in the dash mount for safe driving.
Dash Mount, an absolute must for safe driving. When using the app during your block, you will need to mount it during the times you drive. Make sure it's placed in a good position for both your eyes and hands to reach. Never drive with a mobile device on your hands. Mounts come in all kinds of shapes and sizes, so you just have to decide which one suits your car and your personal preferences.
Portable Phone Charger, this completes the holy trinity of phone chargers, the magnetic and USB are for in the car, and the portable charger is for outside the car. Sometimes you find yourself waiting in a restaurant for a delayed order, and that can take over half an hour. So, you need to be prepared. There is a number of models; some have 2 USB ports, others one and some are solar powered. I prefer the two USB port model, and it provides a hefty 20,000mAh which is useful when you are stuck on a long delivery and need a quick boost. The portable charger is only to be used in cases of emergency when you really have no other options.
USB Flash drive: for music and other entertainment issues. When driving, you will want a selection of your favorite tunes, and when waiting in line at the DC or when taking a food break you will want to soothe your mind.
Medicine: Make sure you have all your medical needs ready for the car. Diabetics are a prime example of people requiring insulin shots ready and available. For people with serious allergies take your anti-allergy pens with you. Keep headache pills and plasters in abundance; you don't want to be caught with a paper cut unprepared and definitely don't want to drive with a headache.
Increased Rates
You need to be wary of reserved rates and increased rates. Reserved rates are standard rates, so when you are offered a reserve block, think twice about accepting it. I don't expect you to cancel any reserved blocks in favor of an increased rate block, but just start to calculate your income. The closer you come to the actual holiday dates the number of incentive rated blocks go up.
This is the time to make money, not be a company driver, because you are not a company driver You are an independent contractor and your family comes first. Go for increased rated blocks as much as possible. Only merge regular blocks if you see that the competition is stiff. It is better to have a reserve block in your hand than an increased rate block denied due to competition reaching it first. Also, remember that the number of incentive blocks is controlled by the DC, and their rates vary between DC's. Bottom line, be clever, work as many blocks as you can, include reserved for increased rates, and you will come out on top.
Incentives
Amazon Flex also offers incentives, such as Amazon Echo devices or gift cards being offered for drivers completing the most deliveries with the minimum number of returned items. Watch out for these incentives and go for them, they are worth it since you are going to drive as much as possible during this season in any event.
###Delivery Differences
Gifts
There is a difference in the packages being delivered during holiday seasons. The packages you will be deliveries during the season will be much more expensive than usual deliveries, and this is due to their nature. They are gifts, and some gifts can be very expensive. Electronic toys and gadgets are a major contributor to such deliveries, and the contents of the package are blatantly obvious due to labeling.
This increase in package value leads to higher levels of theft, so you do not want to leave packages out in the open as you usually do and you don't want to trust packages with neighbors since you do not know the nature of the relations between the neighbor and the customer or who the neighbor is. When hiding packages that cannot be delivered, take into account two factors, the weather and the visibility of the package. You want it to be totally hidden from possible thieves but also protected from natural weather conditions. Try to deliver to the back door if the front will not open. If you see a vehicle parked in a private parkway and are certain it belongs to the house owner, then try to put the package in a hidden part of the vehicle and leave a message on the windshield. You must always notify your customer via the app where you hid the package. In apartment buildings leave the package with the post receiving office or concierge. I sometimes leave the package in a bag in the trash; I always take a picture of where I leave the package. Putting the package in the trash is a great way to assure safety from theft in the more shadier areas of town.
Delivering to Kids
Since you are delivering Christmas gifts, if a kid answers the door they might realize that Santa's elf is an Amazon Flex courier, it kind of takes the magic out of season. So, make sure you deliver to adults. If a kid answers the door, you should ask to speak to an adult, or at least the babysitter. Since most packages have the gift labeled on them, it is easy for the kid to see what is being delivered. In instances where the delivery is to a house and not a condo, I tend to leave the package in the car before I deliver, this gives me time to assess when the door is answered, and if the adult answers it, I suggest them taking the package from the vehicle, or in a way that the kids won't see what is coming. I have been tipped a few times for helping out parents with this issue.
Tips
Usually, we don't get tipped, we are considered couriers for Amazon Flex and are not usually tipped. However, the Christmas spirit tends to bring out the best in most people, and they can follow your progress in the app, so long as you smile and offer good greetings, and don't overdo the show, you will be tipped. So that's an added incentive for working during the holiday season.
Decorations
While some decorations are great, others can be a nightmare. The most dangerous of decorations are the over the use of electrical cables that can endanger a courier who can trip or slip on them. Another issue is your car can damage some connections, so I always find delivering to those heavily decorated homes a pain. If you are involved in an accident, just hope you are not deactivated due to the customer's stupidity. Make sure when you approach such a house that you drive over clear ground, avoid all chords and when walking imagines you are in a minefield. I stress you might win an insurance claim, but you might lose your workplace, so be careful of the lights, they don't bode well.
Peak Hangover
This year's seasonal driving is 35 days; This means you will maintain a daily and nightly vigil for 35 days continuous driving. Make sure you have a holiday after this. If you can, split the days into actual weeks, and work 6 days, rest one day, unless you need those extra 5 days of income. If you decide to work non stop for all the 35 days, just make sure that at the end of the peak you do take time off for yourself and your family Holiday season means rest for some and works for others. So don't immediately work after it, and don't skip over to work for another rideshare operations to make up for the holiday lull in Amazon Flex. Your mind, and your body will need the rest.